The Patriots had a rough stretch of drafts, which has contributed to their lack of current depth, but have bounced back the past two years.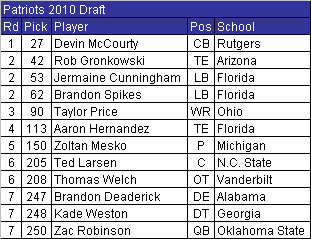 I was mildly surprised by the selection of Devin McCourty. Given their lack of depth in the defensive front seven, I expected Belichick to address that area first. Jerry Hughes and Sergio Kindle were both guys that could have stepped into the hole at outside linebacker.
That said, I do like McCourty. Leigh Bodden has one starting job locked up but the other is up for grabs. Shawn Springs will likely begin the season as the starter but McCourty and 2008 2nd-round pick Darius Butler will compete for the job. I expect McCourty to be starting before the season's over.
I felt the same way about their 2nd-round selection of Rob Gronkowski. He's a perfect fit in New England, but outside linebacker was a much bigger hole. If healthy, Gronkowski has an excellent chance to start right away over Alge Crumpler. Had it not been for some serious injuries concerns, Gronkowski would have been a guaranteed 1st-round pick, and the top tight end on many draft boards.
They finally addressed their need for an outside linebacker with Jermaine Cunningham in the 2nd round. He'll likely be given every opportunity to start opposite Tully Banta-Cain, but it was a reach. I had him graded as a 4th-round pick.
I also think Brandon Spikes was a reach. Despite his tremendous production in college, he lacks the speed and athleticism to excel in the NFL game. At Florida he was surrounded by 10 other defensive players who will all be playing in the NFL one day. It essence, Gators defensive coordinator Charlie Strong was able to mask Spikes' deficiencies. But in the NFL, there just aren't many linebackers that run a 5.00 40-yard dash. There are exceptions to every rule, so Spikes may work out, but they took a gamble a little too early.
I love the selection of Taylor Price in the 3rd round. There's a good number of guys ahead of him on the depth chart right now, but I like his chances to start the season as their 3rd or 4th option at receiver. Randy Moss and Torry Holt may not be around a year from now, at which point he could step into a starting role.
In the 4th round Aaron Hernandez was simply a value pick. They clearly didn't need a tight at after taking Gronkowski, but he had great value at that point in the draft. I'm not entirely sure how he'll fit into their offensive scheme, but I'm confident Belichick will find a way to make it work. Given his athleticism, I wouldn't be surprised to see him frequently lining up in the slot.
They reached for Zoltan Mesko. I don't believe in taking punters before the 7th round. Punters grow on trees and they're hit-or-miss prospects in the draft. He'll be their starter, but he could have been on the board there much later. If not, someone of comparable value would have.
Ted Larsen and Thomas Welch will help replenish the offensive line depth. Neither has a bright future, but the Patriots just needed to add some bodies on the offensive line.
I was shocked that they didn't address the defensive line until the 7th round with Brandon Deaderick and Kade Weston. Deaderick is a good fit at end in their 3-4 scheme, and could be part of the rotation this season. Weston is more of a developmental player. He was never a full-time starter in college but has impressive size and athleticism.
And Belichick's obsession with late-round quarterbacks continued with the selection of Zac Robinson. Almost every year he either drafts or signs a developmental prospect at the position. It's as though he's constantly searching for the next Tom Brady. His obsession is humorous, but I do like the pick. Robinson has impressive athleticism for the position and made significant strides over the past two seasons as the starter at Oklahoma State.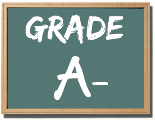 Overall, I think the Patriots had a very solid draft. They got good value for most of their selections and addressed the majority of their needs. The only thing that seems to be missing from the draft is someone who can contribute immediately as a pass rusher. Cunningham could be that guy, but there's no guarantee that he'll be able to win the starting job over Pierre Woods.