The Seahawks made off like bandits in the 1st round and completely revamped their roster throughout the draft. They're definitely in the discussion as one of the biggest winners in this year's draft.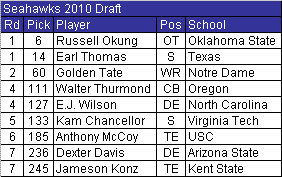 Russell Okung just plopped into their lap in the 1st round and they wasted no time making the selection. He was the best available player and just happened to fill their biggest need. They'll be thanking the Redskins for the next decade for passing him up in favor of Trent Williams.
The next most important position for the Seahawks to address was free safety, and sure enough, Earl Thomas fell to them at No. 14. It was simply a brilliant 1st round by Pete Carroll and company. They got two players to build around and who can make an immediate impact.
I was very surprised that Golden Tate fell to the late 2nd round. The Seahawks still need a true No. 1 receiver, but at that point in the draft Tate was easily the best available. He's a perfect slot receiver who can make an impact from day one. If the Seahawks use him correctly, he could put up impressive numbers as a rookie.
Walter Thurmond is an electric return man and should fill that role immediately in Seattle. He's also very underrated as a cornerback. He's coming off an injury, however, which caused him to fall to the 4th round. He could end up being yet another steal for the Seahawks if he can stay healthy. He could win the job as their nickel corner.
The Seahawks needed a defensive end, but I'm not sure E.J. Wilson is the player I would have targeted in the 4th round. What they really need is a pass rusher, and with Ricky Sapp on the board I would have rather gone that direction. Wilson is more of a big body who excels against the run. He was a slight reach where they took him.
Kam Chancellor was a nice 5th-round pick. He'll backup Jordan Babineaux at strong safety and potentially earn the starting job there in a year or two. He can also contribute on special teams immediately.
Anthony McCoy fell because of concerns about a failed drug test, but his college coach should know how to straighten him out. He's nothing special as a receiver, but is a fairly complete tight end in terms of being able to catch the ball and block. He's a great fit as a second option behind John Carlson.
The Seahawks finally grabbed a pass rusher in the 7th round with Dexter Davis. He'll have chance to make the squad as a situational pass rusher, but I wouldn't expect much from him. He's slightly undersized I think he'll struggle to make the roster.
Jameson Konz was a great pickup in the late 7th round. He doesn't have a true position, but he's an impressive natural athlete who's workout numbers were off the charts. He could play fullback, tight end or receiver. Even though he doesn't have a defined position, he's well worth the risk in the 7th round. He may turn out to be just a workout warrior, but his upside in the 7th round was far too great to pass up.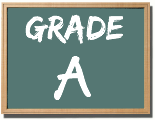 This was simply a brilliant draft for the Seahawks. Okung and Thomas will start from day one. Tate, Thurmond, Chancellor and McCoy should also have fairly significant roles as rookies. This draft has transformed the Seahawks and they now have every reason to believe they can compete for the NFC West title in 2010.