Most Denver Broncos fans probably won't want to acknowledge this, but John Elway and his staff are probably going to bring in a quarterback, not just to backup Tim Tebow, but to seriously push him for the starting job.
Regardless of what you think of Tebow, he deserves to be recognized for his clutch performances. At times it seemed like he truly did will the Broncos to victory. In terms of team success, he exceeded all expectations.
But the fact remains that the Broncos scored two or fewer touchdowns in five of their seven victories with Tebow as the starter. And when you win games like that, it is never the quarterback's doing.
The real MVP in Denver was the defense, which allowed 13 points or fewer in five of Tebow's 11 starts – four of which resulted in wins that were unfairly credited to the Tebow by the media.
It's tough to evaluate Tebow given his unorthodox style of play, but by using ESPN's Total QBR we can reasonably compare him to more traditional pocket passers. Total QBR grades a quarterback's performance in a given situation, and rewards players who make positive plays in clutch moments – regardless of whether the play is a run or pass.
One might expect this formula to favor Tebow more than the traditional statistics. However, of 34 qualifying quarterbacks, Tebow ranked 32nd – ahead of only Curtis Painter and Blaine Gabbert.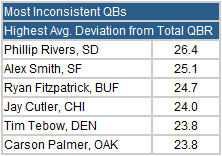 Tebow's Total QBR of 27.2 is something awful (50 is considered average), but what makes it worse is his inconsistency.
Using each quarterback's single-game QBRs, compared to their season-ending QBR we can determine who was most consistent – and Tebow ranks among the worst. On average, Tebow's performance was anywhere for 23.8 points above or below his Total QBR.
One could argue that this shows his ability to perform at a high level, but 23.8 points above his average still only gets him to a Total QBR of 51 – roughly the league average.
A further examination of Tebow's QBR also shows us that, contrary to popular belief, the Broncos did not live and die by his performance. Read more