This was a typical Bill Parcells draft. Very few risks, and heavy on the defensive front seven.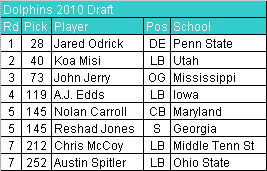 I love the selection of Jared Odrick in the 1st round. 3-4 defensive ends don't get much love in the NFL, but they're a key piece to that defensive scheme. Odrick, who played tackle at Penn State, is a perfect fit. He'll be able to fill the role that Chris Canty and Marcus Spears played for Parcells in Dallas. He should start immediately, likely bumping Phillip Merling from the starting lineup.
Koa Misi, a defensive end at Utah, will make the transition to linebacker in Miami. He'll be given every opportunity to win a starting job opposite Cameron Wake from day one. He may have come off the board a little early, but I can't object to the position which was addressed. It was a very serious need for Miami entering the draft.
John Jerry is another very solid 3rd round selection. He has the size to be a dominant run-blocking interior lineman. My only concern is that his lack of athleticism may hurt Miami's ability to run the Wildcat to his side of the field. Their Wildcat packages recquires linemen to be able to move and Jerry's size simply limited his mobility.
A.J. Edds is another typical Parcells selection. There's absolutely nothing special about him, but he's a hard worker and will be an excellent special teams player. He doesn't have a very high ceiling, but the Dolphins will find a place for him to contribute.
When they first selected Nolan Carroll I wondered if they may move him to free safety. Their depth at cornerback is more than adequate and both starters are 2009 draft picks. However, the selection of Reshad Jones may have thrown that theory out the window. I was in the minority in my opinion of Jones, but I had him rated as an early 2nd-round pick. He's a steal in the 5th round and Miami is a perfect fit. He could easily win the starting free safety job of Tyron Culver.
Chris McCoy and Austin Spitler are very similar players. Both have limited upside but will contribute immediately on special teams. I like both selections, but I do wonder if the Dolphins may have overloaded on linebackers. It will be difficult to keep them all on the roster.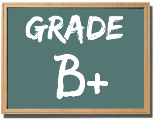 Overall this was a very solid draft. They grabbed a number of players who can contribute immediate and nearly every pick filled a need. My only concern is that they failed to grab a true impact player. While all their picks should have a role, none of them looks like a true difference maker. This very much looks like the draft of  a team that feels they're one or two pieces away from competing for a Super Bowl title. They put needs ahead of talent on their draft board. It could prove to be a smart move, but if they missed on two or three of their early-round selections, then this draft will come back to haunt them within the next few years.