When you own a top-five pick you expect to land a perennial All-Pro, and someone capable of anchoring your team for the better part of the next decade.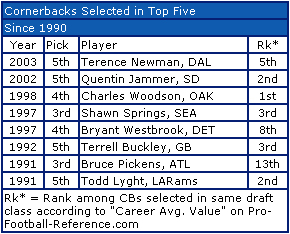 For that reason, certain positions are selected in the top five more frequently than others, such as quarterback, offensive tackle and defensive lineman. Those are generally safe positions to draft high, producing a relatively low percentage of busts.
On the opposite end of the spectrum is cornerback.
Since 1990 only eight cornerbacks have been selected in the top five, and only two of those eight were selected to multiple Pro Bowls (Charles Woodson and Terence Newman).
Pro-Football-Reference.com tracks a stat called "Career Approximate Value" it attempts to quantify each player's career so that players can be compared across positions and across eras. It isn't perfect, but I think it's the best way take the bias out of comparisons.
When applying this stat to cornerbacks in each draft class which produced a top-five pick, only Woodson ranked as the top cornerback in his class. Additionally, only Woodson ranked as one of the top five overall players in his class.
So how does this apply to Patrick Peterson, who is expected to declare for the draft on Monday?
Personally, I'm a huge fan of Peterson. He has all the physical tools necessary to be an elite cornerback in the NFL… but so did Quentin Jammer, Shawn Springs and Terrell Buckley.
Cornerback is simply a difficult position to play at an elite level over a long period of time. Even a cornerback such as Springs, who had a fine career and appeared in one Pro Bowl, ranked only as the 20th best player in his draft class – behind players selected after him such as Walter Jones (6th overall selection), Tony Gonzalez (13th) and Tarik Glenn (19th).
My theory on cornerbacks is that they are "secondary players" – in other words, their success directly relies on the success of others (the pass rush). Place an elite cornerback on a team with no pass rush, and they suddenly won't look so dominant anymore.
The "primary players" – quarterbacks and linemen, for example – are essentially in control of their own performance (obviously it's a team game for everyone, but these positions are more in control than others). And for this reason, "primary players" are safer bets to take in the top five.
So while I think Patrick Peterson has a ton of potential and I won't hesitate to rank him among the top 10 prospects, I would be very nervous about making him a top five pick. The teams drafting in the top five have far too many other holes to fill to spend a pick on a cornerback, which is essentially a luxury pick.
I think there is an excellent chance that Peterson will be a quality starting cornerback for many years to come, but he probably won't be a difference maker for a franchise in rebuilding mode.