Simply put, I expect more from the Colts. They've been an elite franchise for a full decade now, and while Peyton Manning deserves a lot of credit for that, Bill Polian has been a key piece of that puzzle as well. But if this draft is any indication, the Colts are quickly headed in the wrong direction.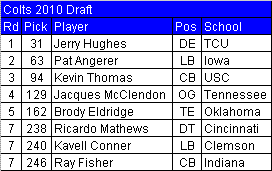 Jerry Hughes definitely had value in the late 1st round, so I can't argue with the pick too much, but the Colts had other needs. Hughes will only be a backup to Dwight Freeney and Robert Mathis early in his career. In time, he could certainly prove to be worth a late-1st-round pick, but I don't see him playing a significant role in helping them win another Super Bowl in the next 2-3 years. At least not as long as Freeney and Mathis are around.
In the 2nd round the Colts reached way off the board for Pat Angerer. I love the way he plays the game, but he's simply not a 2nd-round pick. To make matters worse, he doesn't fill a need. He'll likely begin his career on special teams and as a backup to Gary Brackett.
Kevin Thomas finally filled a need, but the Colts didn't need another a mid-round cornerback on the roster. He'll add to their depth, but ultimately he'll just blend in with the mediocre play of Jacob Lacey, Jerraud Powers and Kelvin Hayden.
If Thomas and Angerer were reaches, I'm not sure what to call the selection of Jacques McClendon. They really didn't need to add depth on the offensive line. What they needed was an upgrade at one or more of the positions on the line. McClendon won't provide that; at least not immediately.
Brody Eldridge was yet another terrible reach. I wasn't surprised to see them select a tight end, but there were plenty of others that would have been a better fit. They have a solid one-two punch with Clark (the pass-catcher) and Santi (the blocker). Eldrige will have a hard time making the roster. Even Gijon Robinson and Jacob Tamme have a leg up on him right now.
The Colts needed a defensive tackle, but they needed an upgrade, not more depth. Ricardo Mathews will struggle to earn playing time behind backups Fili Moala and Eric Foster, let alone starters Antonio Johnson and Daniel Muir.
Kavell Conner is vastly undersized, but he was productive in college. He'll likely be given a chance to compete for playing time at strong-side linebacker. Its one of the weakest positions on the Colts defense, so he just may earn a roster spot. That said, this was a position that needed to be addressed earlier in the draft.
I think Ray Fisher was a great 7th-round pick. He'll be buried on the cornerback depth chart, but he's an explosive return specialist. He may turn out to be the only Colts rookie to make a significant impact as a rookie.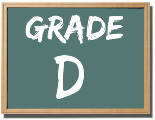 Overall, this was a very disappointing draft for the Colts. Even if some of their picks turn into quality players down the road, they needed to add some immediate help. The window of opportunity to win another Super Bowl with Peyton Manning is closing fast. He's 34 years old and Colts should have done more to surround him with players that can help them win immediately. The offensive line struggled in the Super Bowl and was a weakness all season long. They should have added more than Jacques McClendon to help fix that issue. Additionally, they could have used an early-round cornerback or strong-side linebacker. If i didn't like Jerry Hughes as much as I do, this draft would deserve a failing grade.