Few teams have a more crucial and glaring hole to fill than the Washington Redskins need for a franchise quarterback. Unfortunately for the 'Skins, their surprising early-season success left them with the 6th-overall selection, and potentially without any viable quarterback options in the 1st round.
However, owner Dan Snyder has never been shy about parting with draft picks, making them a legitimate candidate to trade up for Robert Griffin III. But before we assume the Redskins will attempt to move up (possibly to No. 2) to acquire Griffin, they first need to be sure he fits into Mike Shanahan's offensive scheme.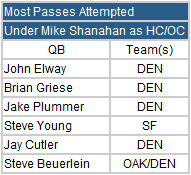 As a former offensive coordinator, Shanahan likes to hand pick his quarterbacks, and has been reasonably successful in his efforts (at least prior to joining the Redskins).
While it's tough to sum up all the quarterbacks Shanahan has used in 20+ years as a head coach/offensive coordinator, the one commonality between his primary signal callers has been their mobility. John Elway and Steve Young obviously stand out but Jake Plummer and, to a lesser extent, Steve Beuerlein, Jay Cutler and Brian Griese fit the mold as well.
Based solely on this trait, Griffin clearly fits the Shanahan profile. But that doesn't necessarily mean the Redskins will jump at the chance to move up.
Shanahan has always marched to the beat of his own drum, and isn't shy about waiting until the later rounds to fill crucial needs. Other prospects such as Ryan Tannehill, Nick Foles and Brock Osweiler also possess many of the same traits as Griffin, and could interest Shanahan in the late 1st (should the Redskins chose to trade down) or in the 2nd or 3rd round.