Ted Thompson has built this Packers team through the draft and he impressed on draft day once again this year.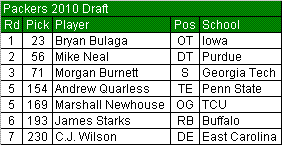 Having Bryan Bulaga fall to No. 23 was a dream scenario for the Packers. They re-signed Mark Trauscher and Chad Clifton this offseason, but both tackles are over the age of 32 and are noticeably declining. Bulaga could be used in a reserve role this year, or potentially at guard, but his future is definitely at left tackle.
I don't think the Packers reached for Mike Neal nearly as much as some other draft analysts have suggested. He's an elite athlete for his size and should be able to make a seamless transition to defensive end in the Packers 3-4 defense. If injuries hadn't slowed his development, its possible he would have been in the mix to come off the board in the 1st round.
Morgan Burnett is a steal in the 3rd round. His ball skills are on par with Eric Berry's and he has the size to be effective against the run. He's probably best suited to play free safety early in his career, but with some work he could be an effective strong safety as well. There isn't a starting job available for him right now, but he should be a starter down the road.
Andrew Quarless is a solid 5th-round pick. He'll have to fight to make the roster, with Jermichael Finley and Donald Lee likely to earn the top two spots on the depth chart, but his upside makes him worth the pick. He's an impressive athlete who just never lived up to expectations at Penn State.
I was surprised the Packers didn't address their interior offensive line earlier in the draft, but they got lucky when Marshall Newhouse fell to them in the 5th round. He played left tackle at TCU and excelled as a run blocker. His athleticism will be an asset, as will his ability to provide depth at both guard and tackle. While he's penciled in as a backup, don't be surprised if he earns a starting job by the end of the season.
James Starks is a low risk-high reward pick in the 6th round. He's coming off a shoulder injury which caused him to miss the entire 2009 season, but he has the potential to develop into a starter. The key to his career will be his ability to bulk up without losing speed. If he puts in the necessary hard work in the weight room, the Packers could have found themselves one of the gems of the draft.
C.J. Wilson is about as good a prospect as you'll find in the 7th round. He's a perfect fit for defensive end in the Packers 3-4 defense. He may have a hard time making the roster, considering their depth at the position, but he was well worth the 7th-round pick.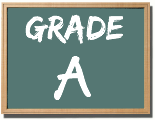 This was a great draft for the Packers from start to finish. They didn't make any unnecessary reaches and they landed a good mix of players ready to contribute and guys to develop over the next few years. That is the blueprint for a successful draft and Ted Thompson executed it perfectly.