This was a strange draft for the Saints, and it got off the bizarre start with the selection of Patrick Robinson in the 1st round. I like Robinson, perhaps more than most even, but I don't see why the Saints wanted him with their first selection. Jabari Greer had a very solid season, Tracy Porter came on strong in the playoffs and they spent their 2009 1st-round pick on Malcolm Jenkins. The addition of Robinson creates a crowded secondary in New Orleans.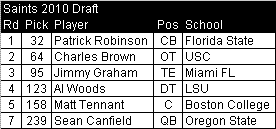 I think Charles Brown will be a steal in the late 2nd round. I certainly don't fault them for landing a potential left tackle that late in the draft. However, I am shocked that they didn't spend either of their first two picks on a defensive end or outside linebacker. Their run defense was a disappointment in 2009, and if they're going to repeat as champs in 2010 they need to address that hole.
Jimmy Graham has a ton of upside and he's in a perfect situation in New Orleans. He'll be able to take a backseat to fellow Hurricane Jeremy Shockey early in his career while he continues to learn the position. The former basketball player has a long way to go before he's ready to start, but they could potentially use him as a receiver in favorable situations, specifically in the red zone, early on.
Al Woods was a great 4th-round pick. Their interior defensive line struggled at times in 2009 and Woods will provide some much needed depth. His career at LSU was a bit of a disappointment, but he has the talent to be a steal. He was worth the risk where the Saints landed him.
Matt Tennant was one of the best picks in the draft in the 5th round or later. Its rare that you take a guy in the 5th round and immediately view him as a future starter, but Tennant has an excellent chance to replace Jonathan Goodwin at center in a year or two.
A lot of people soured on Sean Canfield after he struggled at the Senior Bowl, but I decided to stay on the bandwagon. I loved the progress he made throughout his career. While he may not have elite arm strength or accuracy, I think he has enough skills and the smarts to develop into a quality quarterback. He has a decent shot at beating out Chase Daniel for the backup job in 2010.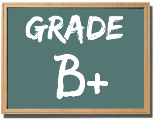 I really don't hate any of the Saints picks, so I can't give them a poor grade. However, I don't understand how they managed to go through the draft without adding a single linebacker or defensive end. Those are two glaring holes that needed to be addressed. Someone like Eric Norwood in the 3rd round would have been a great addition. In the long run, I think this draft class will do just fine, but they did very little to help themselves in the immediate future.