I was fairly surprised that Scott Pioli selected Eric Berry in the 1st round. He strongly believes that football games are won in the trenches and that safeties aren't nearly as valuable as the big boys. Yet he went against his beliefs and took the guy many believed to be the best available player.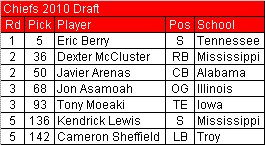 As much as I like Berry, I question his decision to pass on Russell Okung. The Chiefs defense is so bad right now, that I don't see how Berry can make an immediate impact. Defensive backs are at the mercy of the pass rush. If you can't pressure the quarterback, then the best defensive backs in the world will eventually get beat. An offensive tackle, however, can make an instant impact. Okung and Branden Albert would have been an excellent duo.
I really like Dexter McCluster, but it was a reach to take him 36th overall. He's a nice complementary piece to have, but he's too small to be a starter at either receiver or running back. The Chiefs have too many other holes to fill to be getting cute and taking players like McCluster in the early 2nd round.
I feel the same way about Javier Arenas. He can make an immediate impact on special teams, but I don't view him as a starting cornerback. He's too small and too slow. He'll play immediately as a nickel cornerback, but he may be stuck at that position for his career.
Jon Asamoah was a great 3rd-round selection. He'll likely play a backup role in 2010, but could eventually replace 33-year-old Brian Waters in the starting lineup.
I have mixed feeling about the selection of Tony Moeaki. He has the talent to be a future star, but he simply can't stay healthy. He's arguably the most injury-prone player in this year's draft and there's just no reason to believe he'll have a long, healthy NFL career. If he does, he'll be a steal, but a team like the Chiefs shouldn't be taking risks like that in the 3rd round.
Even with a 5th-round pick I dislike the selection of Kendrick Lewis. There were other positions on the roster that needed depth more than safety (linebacker, receiver) and he may have even been a reach. He'll have to fight to make the roster and won't be more than a special teams contributor.
The finally added a linebacker with their last selection, Cameron Sheffield. Unfortunately, he's a bit of a project and probably won't make an immediate impact. They really could have used someone early in the draft to take some of the workload off the aging Mike Vrable.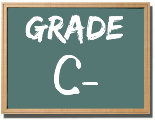 Overall, I think the Chiefs simply took too many chances and didn't do enough to fix a miserable defense. Eric Berry is one heck of a safety, but it was their run defense that was the real problem in 2009. With five picks in the top 100, the Chiefs had the opportunity to make a real splash this year. They took a number of players with upside, but just not enough guys who can help immediately. I don't see how this draft helped them get any better in the immediate future.