I wholeheartedly agree with the Rams decision to draft Sam Bradford. While I had Ndamukong Suh at No. 1 on my draft board, I believe Bradford was the right fit for the Rams. He's a legitimate franchise quarterback and you simply don't pass up on guys like that when A.J. Feeley is the top quarterback on your roster.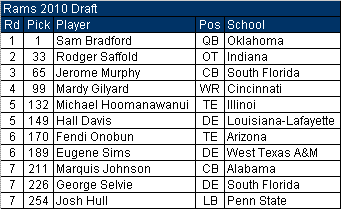 What I love most about Bradford is his attitude and work ethic. Look around the league at the top quarterbacks – Drew Brees, Tom Brady, Peyton Manning – all of them out-work their teammates on a daily basis. Talented quarterbacks come along all the time, but if you don't have the right attitude you won't make it in this league. Just ask Ryan Leaf, Matt Leinart, JaMarcus Russell, J.P. Losman, etc. Bradford has the physical tools and the right mindset to be a great one.
I like the Rams selection of Rodger Saffold, but how much I like it will depend on where they play him. I really think he's best suited to play guard in the NFL. He could be an adequate right tackle, but I just don't think he has the quickness to live up to his draft status if that's where they end up playing him.
Jerome Murphy is a great fit for the Rams. Aside from O.J. Atogwe there isn't much worth keeping in their secondary. He definitely has a chance to beat out either Ronald Bartell or Eric King for a starting job.
The Rams needed to land a receiver who can play immediately and Mardy Gilyard definitely can. However, he just isn't the type of receiver they needed. They already have a number of undersized receivers (Donnie Avery, Keenan Burton, Danny Amendola, Brandon Gibson) and they really could have used a bigger target for Bradford. Marcus Easley, who went 107th overall to the Bills, would have been a better selection there.
Mike Hoomanawanui [nicknamed uh-oh] is a blocking tight end. He isn't a future fantasy football star, but he can certainly be a nice piece of the puzzle in St. Louis.
Hall Davis is a developmental prospect. He'll likely be brought along slowly, seeing minimal playing time early in his career. He's a similar type of player to Chris Long, and could end up being a valuable backup for that reason.
Fendi Onobun is about as raw as they come, but he has the talent to be a great receiver. He's a former basketball player at Arizona, and the Rams are hoping they can develop him into the next Antonio Gates.
I'm not a fan of the selection of Eugene Sims. He just isn't ready for the NFL. He currently doesn't have the size or strength to play defensive end, but he's too tall to play linebacker in the Rams 4-3 defense. I'll be somewhat surprised if the makes the roster.
Marquis Johnson is a great 7th round pick. He has limited upside, but can add depth to their secondary which is what they needed most at this point in the draft.
George Selvie was worth the risk in the 7th round, but I don't know if the Rams should expect much from him. After dominating the Big East as a sophomore, he just hasn't been the same player. He just doesn't have the athleticism or strength to be an impact player in the NFL.
Josh Hull has the potential to be a solid contributor on special teams. The Rams are fairly thin at linebacker which could allow him to earn a spot as James Laurinaitis' backup.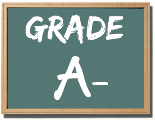 This was a great draft for the Rams to get them pointed in the right direction. They had so many holes to fill, and they really needed to come out of this draft with a number of players who can step right into a starting role. If everything goes their way they could end up with as many as four immediate starters and certainly will have no fewer than two (Bradford and Saffold). They only thing holding them back from a solid A is the fact that they reached for a few guys to fill specific holes. A team with so little talent really shouldn't limit themselves to addressing a specific position at any point in the draft.