Its been assumed for months that the Steelers would address their interior line with their 1st-round pick, and that decision was made easier by the suspension of Ben Roethlisberger. Without their franchise quarterback, the Steelers will become more of a power running team and Maurkice Pouncey will be a key piece of the equation to make that work. He should start from day one at right guard and eventually move to center to replace Justin Hartwig.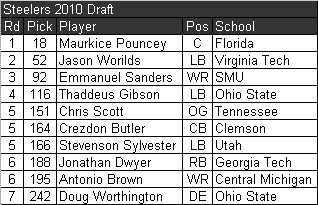 I thought they reached a little for Jason Worilds. They needed to add depth at outside linebacker, but there were better players on the board in the 2nd round.
I also felt that Emmanuel Sanders was a reach. I'm wary of any receiver that comes from a June Jones offense. He's undersized and just seems a little too similar to Mike Wallace. If the Steelers were going to add a receiver in this draft I would have liked to see them add a bigger possession receiver. Limas Sweed has been a huge disappointment and its time for the to move on and find someone else to fill that role.
I love the pick of Thaddeus Gibson in the 4th round. I gave him a 2nd-round grade and him rated ahead of Worilds. He's more raw than Worilds but has a more upside, especially as a pass rusher. He likely won't see much immediate playing time, but I love his chances of turning out to be the gem of this draft class for the Steelers.
Chris Scott is an unspectacular pick in the 5th round, but adds some necessary depth. He isn't a future starter, but he can play guard and tackle and should have a long career as a backup for that reason.
Crezdon Butler fills an obvious need, but I was surprised that the Steelers didn't grab a cornerback until the 5th round. They did trade for Bryant McFadden on draft day, but he isn't the answer to their problems either.
Stevenson Sylvester was a tremendously productive college linebacker who will likely play inside in the Steelers 3-4 scheme. However, I don't see him as anything more than a special teams contributor in the NFL. There were better players on the board at that spot.
I want to love the selection of Jonathan Dwyer, but I have reservations about declaring it a slam dunk pick. I graded Dwyer as a 2nd-round selection. I knew at the time that most had him graded lower that that, but I never envisioned a situation in which a player with his size and speed would fall to the 6th round. When a player with that much talent falls that far without an obvious explanation, I start to wonder if there's something that only the teams who interviewed him are aware of.
I really like the selection of Antonio Brown. In fact, I had him rated a few spots higher than Emmanuel Sanders. They're similar players, but Brown had much more value in the 6th round than Sanders in the 3rd.
Doug Worthington could also turn out to be a late-round steal for the Steelers. He's a prototypical 3-4 defensive end. He has the size for the position and the athleticism to make some plays as well.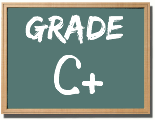 This was a solid draft for the Steelers, but they only landed one player who will contribute immediately (Pouncey). Their other picks are more developmental prospects who will be brought along slowly. Worilds and Gibson could be come cornerstones of their defense in a few years, but the Steelers really needed to land some players who can contribute now.
The biggest thing missing from this draft was an impact cornerback. There were plenty of guys on the board in the 2nd and 3rd round who could have added immediate depth to the position. Overall, this draft was filled with a few too many reaches and not enough players who projects as potential starters.