The Ravens did a great job trading out of the 1st round and still managing to land a 1st-round talent in the 2nd round.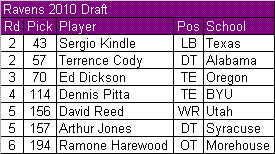 Sergio Kindle is a perfect fit at outside linebacker in Baltimore. While their defense is still based off the 3-4 scheme, they have been running more 4-3 sets lately and Kindle is a much better fit at outside linebacker in those formations than Jarrett Johnson. He'll likely backup Johnson this upcoming season, but he should see significant playing time as part of the rotation.
Terrence Cody was a great pick in the late 2nd-round. He obviously doesn't fill an immediate need, but he can be used in a rotation at nose tackle with 33-year-old Kelly Gregg. That combination will suit both players well and should improve what was already one of the best defensive lines in football.
I'm not crazy about the selection of Ed Dickson. He can contribute immediately as a receiver, but his blocking needs a lot of work. He just isn't the complete package that the Ravens like at tight end. However, I think they got great value for Dennis Pitta in the 4th round. He's much closer to a Todd Heap-type tight end and I like his chances of eventually replacing Heap better than Dickson's. That said, I don't like the fact that they grabbed two tight ends in spots where other contributors could have been added.
David Reed is an intriguing prospect, but I felt the reached a little bit in the 5th round. Fortunately he won't be relied on this upcoming season. For the short term, the Ravens are set a receiver, allowing them to develop Reed without throwing him into the fire.
Arthur Jones was a great late 5th-round pick. Entering the 2009 season he was viewed as a potential 1st-round pick. However, he has a long history of knee injuries which scared off most teams. If he can stay healthy, he'll be an instant contributor at defensive end for the Ravens. He's a very nice addition to their rotation on the defensive line and well worth the risk in the 5th round.
Ramone Harewood is a developmental prospect and landed in the perfect place in Baltimore. He fits the mold of a typical Ravens tackle (6'7″, 360 pounds) and they'll try to groom him for a starting job two to three years down the road. He may spend the 2010 season on the practice squad, but in the 6th round they could afford to grab a developmental prospect that won't bring any immediate returns.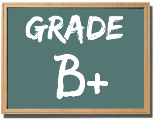 Overall, this was a very solid draft for the Ravens. For the most part, they got excellent value at each slot and a few players that can contribute immediately. The only downside is that they didn't land any immediate difference makers. They have every reason to believe that they can be a Super Bowl contender in 2010, so it was surprising to see them fail to address more needs early one. They have a number of injury concerns at cornerback (Lardarius Webb, Dominique Foxworth) and adding some insurance at that position would have made sense.