Considering they only had five picks, its hard to imagine the draft going any better for the Chargers.
I definitely think they reached for Ryan Mathews, but I wholeheartedly support the decision to move up and draft him.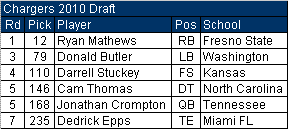 They have every reason to believe they can be a Super Bowl contender in 2010, and they need a running back like Mathews to make it happen. He was the only running back in this year's draft class that projected as an immediate starter in their offense. Even C.J. Spiller wouldn't have been a good fit because he's too similar to backup Darren Sproles. They overpaid for him, but it was a move they simply had to make.
In the 3rd round they got great value for Donald Butler. Linebacker wasn't a glaring hole, but Stephen Cooper is nothing special. In fact, he probably should have already lost his job to Kevin Burnett. Butler has an excellent chance to see significant playing time this season.
I was surprised by the selection of Darrell Stuckey because safety isn't much of  a need. Eric Weddle has the starting free safety job locked up. Stuckey could probably play strong safety, but I don't see him as a potential starter at that position. He'll likely be nothing more than a backup and special teams contributor.
I was shocked that the Chargers didn't address their need for a nose tackle within the first four rounds, but they got an absolute steal in Cam Thomas. He was never terribly productive at North Carolina, but I believe he just wasn't a good fit for their defensive scheme. He's a prototypical nose tackle, however, and has a shot to earn the starting job this season.
I don't have a problem with the Chargers taking a developmental prospect at quarterback, but I'm not sure Jonathan Crompton would have been my first choice. Yes, he was great down the stretch this year. But he was absolutely terrible for his first year and a half as a starter. Essentially if Tennessee had any other option to replace him at quarterback, he wouldn't have gotten a sniff from the NFL. That said, he has NFL size and a NFL arm and he's in a position in San Diego where he won't have to see the field anytime soon. Its a good place to sit and learn.
Dedrick Epps will add to their depth at tight end and probably play some special teams. He's nothing special, but he'll be given an opportunity to compete with Kris Wilson for the backup tight end job.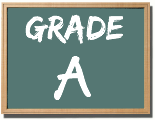 Overall, I love what the Chargers did in this draft. They filled their biggest hole with the one player in the draft capable of making an immediate impact in their offense. They then followed that up by landing Butler and Thomas, who at the very least will provide quality competition in training camp for the incumbent starters at their positions. This is what a draft should look like for a team that is already in contention for a championship.