Wow, where do I even start with this…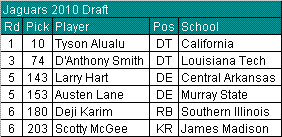 I can honestly say that no 1st-round pick has ever shocked me as much as seeing Tyson Alualu go 10th overall. I've heard some people defend Gene Smith by saying only time will tell whether it was a bad pick. I disagree 100%. Only time will tell if Bradford was a bad pick for the Rams or Suh a bad pick for the Lions, etc. But Alualu was a bad for the Jaguars no matter what happens.
There's simply no way that any other team had him graded as a top-20 pick. Some likely didn't even have him graded as a 2nd-round pick. After the Jaguars selected Alualu 10th overall, both the 11th and 12th picks were promptly traded – further making the Jags look foolish. They easily could have traded with San Diego (who eventually traded up to No. 12) and taken Alualu in the late 1st round. Or at the very least, traded back to No. 13 with the 49ers (who traded up to No. 11) and at least gotten something in return.
Despite my criticisms of the pick, I do need to say this: I really like Tyson Alualu. I was fully prepared to praise someone for grabbing him in the early 2nd round, or even the late 1st (maybe the Colts or Saints). However, he does have his flaws. He's a pass-rushing interior lineman, but may not have the size and strength to excel at the next level. As much as  like him, he just wasn't worth a top-10 pick.
If the selection of Alualu wasn't bad enough, they spent their next pick on another defensive tackle, D'Anthony Smith. I can understand adding one tackle, as it allowed them to release John Henderson, but two? Terrence Knighton was impressive as a rookie last year and I don't see how Smith fits into their plans as anything more than a backup.
They finally added some pass rushers in the 5th round with Larry Hart and Austen Lane. Although I wonder if Hart will eventually be switched to strong-side linebacker. He's slightly undersized and may not be a great fit for playing with his hand on the ground in the NFL. I love the selection of Lane, however. I think he can be groomed as the eventual replacement for Aaron Kampman.
Deji Karim could be a steal in the 6th round. I like him a lot, but the only problem is, he may be too similar to Maurice Jones-Drew. Both are small bowling ball-type running backs. For that reason, I think he'll struggle to beat out Rashad Jennings as the backup job. They need someone who's a change of pace from Jones-Drew, not a clone.
Scotty McGee was a questionable 6th-round pick. There were better return specialists on the board. I'm rarely surprised to see a name come off the board by the 6th round, but I was genuinely surprised to hear his name called at all on draft day. They did need a return specialist, however, so I can't argue too much with taking a chance on one in that late in the draft.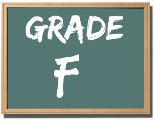 This was a terrible draft from start to finish. Gene Smith, who put together a fairly impressive 2009 draft class, embarrassed himself with the selection of Tyson Alualu. If Alualu fails to pan out, he'll be out of a job sooner rather than later. For a franchise that desperately needed to make a splash to excite the fan base, they failed miserably.