Aside for the Seahawks, the Titans may have done more than any other team to help themselves immediately.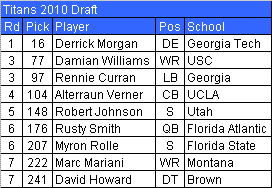 Derrick Morgan was the top defensive end on our draft board, and quite possibly on the Titans. He's probably the most complete defensive end in the draft, making him a perfect fit in Tennessee. They lucked out having him fall to No. 16.
I wasn't nearly as high on Damian Williams as most, but he had value in the 3rd round. He's a little soft, the Titans have a great coaching that can toughen him up if he's willing to put in the effort. There's no denying his talent, so he was well worth the risk at No. 77.
Rennie Curran is one of the players that needed to land in the right system to be effective, and Tennessee is the perfect place for him. He's vastly undersized, but that's exactly how the Titans like their linebackers. Their probably isn't room for him to play immediately, but he'll be groomed for a starting job in a year or two.
I was surprised they didn't address their need for a cornerback before the 4th round, but Alterraun Verner is still a good pick. They didn't need to add a star, just more depth, and Verner can get the job done. He'll be given the opportunity to compete with Jason McCourty for the starting job opposite Courtland Finnegan.
I think they reached for Robert Johnson in the 5th round. He doesn't fill a need and he probably don't see the field expect on special teams early in his career.
Rusty Smith is a developmental quarterback who was worth the risk in the late rounds of the draft. He has NFL size and arm strength. They'd probably like to place him on the practice squad, but if they like him enough they'll dump Kerry Collins or Chris Simms and keep Smith as the 3rd string quarterback.
I love the pick of Myron Rolle in the 6th round. I don't see how he fits into their crowded secondary, but he had too much value to pass up that late in the draft. I sincerely hope he didn't fall because teams are worried that he's "too smart" for an NFL locker room.
Marc Mariani is a nice developmental prospect but he likely won't make the roster. They simply have too many receivers who deserve a permanent spot on the roster to waste a spot on Mariani.
David Howard fits the mold of the slightly undersized tackle that the Titans have been using in recent years. They're very deep at the position though, so I don't see how he fits into their immediate plans. He's another developmental prospect who will likely be placed on the practice squad.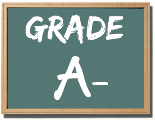 Overall the Titans did a great job in the draft. They lucked out having Morgan and Williams fall into the laps, despite both players receiving much higher grades from many teams than where they were selected. They also did a great job adding to their depth on the third day of the draft. The only criticism I have is that they may have taken too many chances on players who will struggle to make the roster in 2010. They'll have a hard time keeping all nine draftees around past the end of training camp.