The Browns had to be devastated to see Eric Berry come off the board at No. 5 to the Chiefs. It left them without an obvious pick in the 1st round.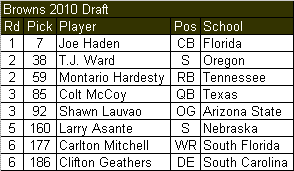 Joe Haden was an acceptable option, but a team with so many holes should avoid adding to an area of relative strength early in the draft. Eric Wright and Sheldon Brown are a solid duo of starting corners and, compared to the rest of the team, represent one of the few strengths on the depth chart.
T.J. Ward was a huge reach in the early 2nd round. Since high school his career has been filled with injuries. When healthy, he's shown the ability to be a future NFL starter, but there's no reason to believe that he'll suddenly be able to stay out of the trainers room. It looks as though the Browns reached to fill a position of need.
I have the same criticisms of Montario Hardesty as I do about Ward. When healthy, he looks great. But he just can't stay on the field. During his career he's suffered a torn ACL, an ankle sprain and a broken leg. There's just no reason to believe a running back with a history of injuries will be able to withstand the pounding of the NFL over the course of a 16-game season.
In the 3rd round they finally got their quarterback. While I think Colt McCoy could be a steal in the 3rd round, I'm actually not crazy about the pick. The Browns obviously had no intention of drafting McCoy, and Mike Holmgren hasn't even tried to deny that fact. They never thought he'd be on the board at No. 85. Based on that fact, I don't like the selection. If they don't view McCoy as a potential franchise quarterback [he wasn't even the top player on their board at No. 85] then why take him at all? All this does is potentially dissuade them from spending their 2011 1st-round pick on a true franchise quarterback [Jake Locker? Ryan Mallett? Andrew Luck?].
Shaun Lauvoa was a great pickup in the late 3rd round. The former left tackle has an excellent chance to replace Pork Chop Womack as the starting right guard.
Larry Asante is a potential steal in the 5th round. He's an ideal strong safety and should be able to contribute immediately on special teams and as Abram Elam's backup.
I absolutely love the selection of Carlton Mitchell. He's very raw, but he was mentioned as a potential 3d-round pick entering the draft based on potential alone. He has all the tools necessary to develop into a true No. 1 receiver – a position which the Browns are currently lacking.
Clifton Geathers has a chance to be another late-round steal. He's a prototypical 3-4 defensive end. Kenyon Coleman and Robaire Smith don't exactly have a stranglehold on the starting jobs, so Geathers could have an outside shot at winning a starting job before the season is over. That's a lofty expectation for a 6th-round pick, but I think its a reasonable goal for Geathers.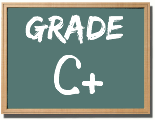 Overall this was a fairly uninspiring draft for the Browns. If Colt McCoy develops into a future star, we'll look at this draft as the turning point of the franchise, but the odds are greater that he never plays a game for the Browns. As a 3rd-round pick they have virtually nothing invested in him. They passed over him an injury-prone running back and safety – not exactly giving off the impression that they view him as the answer to their quarterback problems.
Ultimately the most disappointing aspect of this draft is the fact that Browns may not have landed a single player who will be a regular starter in 2010. Even Haden will have to beat out either Wright or Brown. For a team with so many holes to fill, that's the very definition of a disappointing draft.