The only explanation I have for the Raiders draft is that no one told Al Davis it started on Thursday this year.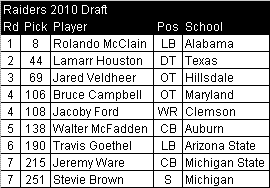 Rolando McClain doesn't fill a glaring need, but he was arguably the best available player on the draft board. He's a significant upgrade over Kirk Morrison, who was traded to Jacksonville before the draft was over. Given the other options available – most likely an offensive tackle – was clearly the right choice in my mind. McClain will have an instant impact and be an anchor on their defense for years to come.
Lamarr Houston was another uncharacteristically smart 2nd-round selection. He'll likely be plugged into a starting role from day one. Another reason why I love the selection of Houston is because he's a versatile lineman. Should the Raiders switch to a 3-4 in the near future, which many have speculated they will, Houston can easily shift outside to defensive end.
I have very mixed feeling about the selection of Jared Veldheer. Purely based on value I think it was a good selection. However, they're desperate for a new left tackle and there will certainly be pressure to play Veldheer if he outperforms Mario Henderson in training camp (which won't be hard to do).
And now we're on the Al Davis portion of the draft…
After presumably showing up in the Raiders war room two days late, Al promptly selects the most athletic offensive lineman (Bruce Campbell) and the fast wide receiver from the combine (Jacoby Ford).
While it is a typical Al Davis pick, I really can't criticize the selection of Campbell too much. He does have a ton of upside and he definitely had value in the 4th round. There will be no pressure to play him early on (unless Davis insists) and he can sit and learn and take the time to reach his full potential.
The Jacoby Ford selection, however, makes no sense. With the exception of Chaz Schilens, all the Raiders have are receivers who can stretch the field. Ford will just blend into the pack. Fortunately Davis didn't force them to reach for him in the 2nd round.
Walter McFadden was a solid 5th-round pick. They really should have tried to land a cornerback earlier in the draft though, because McFadden will be forced to play early and often in the Raiders thin secondary. He'll definitely be in the mix to win a starting job opposite Nnamdi Asomugha. Not because he deserves to though, just by default.
Travis Goethel doesn't appear to fit in Oakland. They're fairly deep at linebacker and he'll struggle to make the squad unless he really stands out on special teams in training camp.
Jeremy Ware will be added to the rest of the dreck at cornerback in Oakland. Aside from Asomugha they don't have a NFL-caliber cornerback, so if he impresses early on he could earn some playing time.
Stevie Brown was a nice 7th-round pick, but he'll struggle to make the roster. The Raiders 2008 4th-round pick Tyvon Branch and 2009 2nd-round pick Mike Mitchell and strong safety. Both played reasonably well in 2009, making it unlikely that Brown will steal away any playing time.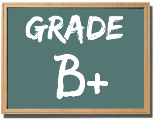 Overall this was the best draft the Raiders have had in a few years. I'd love to know explanation behind their first few picks and why the typical Al Davis selections started popping up again in the 4th round. But whatever the reason, it worked. They landed a number of players who can make an immediate impact and a few other nice developmental prospects. The only major strike against them is their inability to find a left tackle or cornerback who can play immediately. McClain and Houston were safe picks – especially by the standard set by recent Raiders draft – but neither filled a significant area of need.