The Bucs needed to find a number of immediate impact players in this year's draft, and I think they did a great job finding players that fit their system and could play a role from day one.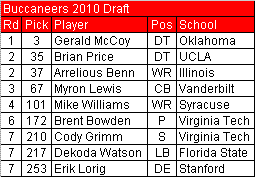 Gerald McCoy was the obvious choice in the 1st round. He's a dominant penetrating tackle and can wreak havoc in the backfield. Few interior linemen have entered the NFL with his ability to take over a game. He can be overaggressive at times, which is a big reason why Ndamukong Suh was viewed as the better prospect, but McCoy is a smart kid and should only get better as he develops.
I was surprised to see them take another defensive tackle in the 2nd round, but I actually like the selection of Brian Price. He's a perfect compliment to McCoy, and the two of them could make a significant impact immediately. I really like that they're starting this rebuilding process on defense up front. I strongly believe that building from the interior line on out is the way to go.
The Bucs interest in Arrelious Benn was obvious entering the draft and he's a perfect fit. He has all the tools to be a number one receiver. They'll groom him as Josh Freeman's go-to target. I only hope they don't ruin his development by asking him to do too much early on. He already looks like the obvious choice to be their No. 1 receiver, which is a lot to ask of a rookie.
I think they reached for Myron Lewis. I don't think he has the skills to be a great cornerback and would have rather seen a team draft him and move him to safety. Additionally, I think safety is a bigger need for the Bucs. Morgan Burnett, Major Wright and Chad Jones were all on the board and I think all three will have much better careers than Lewis.
Mike Williams is a huge risk, even in the 4th round. He has the skills to be an elite receiver, but there's just so many questions regarding his departure from Syracuse. I would have rather seen him land on a team with more of a veteran presence in the locker room, especially at receiver. He could develop into a steal, but its a risk.
I don't like taking punters before the 7th round at the earliest, so I'm not crazy about the selection of Brent Bowden. He'll be their starter as a rookie, but I don't think he's any better than four or five others that went undrafted. This pick could have been better spent on another position player.
Cody Grimm is a great 7th-round pick. His upside is very limited, but he's a hard worker and should be a beast on special teams. He's one of those guys that will have a long career simply because he does all the little things and coaches love having him around.
Dekoda Watson fell a lot further than I expected. His talent level is far above that of your typical 7th-round pick, but he just wasn't able to perform consistently at Florida State. The Bucs don't have a strong group of linebackers, and he could compete for playing time in a backup role.
Erik Lorig is a solid 7th round pick. He doesn't have a lot of upside but he'll compete for a roster spot. He's a tough, physical lineman that excels against the run. He isn't starter material, but has the size and strength to potential stick around as a backup.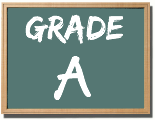 Overall, the Bucs did a great job finding multiple players that can start and make an impact immediate. If things go as planned, they'll have four players – McCoy, Price, Benn and Williams – all starting as rookies. That's a recipe for disaster as far as the Bucs 2010 season is concerned, but in the long run this draft could be exactly what they needed to turn the franchise around.