The Lions landed the best player in the draft and the player that best fits their needs in Ndamukong Suh. Together with Kyle Vanden Bosch and Corey Williams, Suh will help give the Lions an impressive, new revamped defensive line.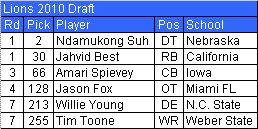 I like the Lions willingness to move up to get the guy they wanted, but I just don't think Jahvid Best is worth a 1st-round pick. He's a very nice weapon to have, but he isn't a player to build around. The fact that Best is vastly undersized and is coming off a serious injury raises significant concerns about his ability to carry the load in the NFL. If he's only a Darren Sproles-type change-of-pace back then he isn't worth a 1st-round pick.
They reached for Amari Spievey but he's a perfect fit for their defense. They needed depth at cornerback and Spievey will be able to help immediately.
I really like the selection of Jason Fox. He'll be a backup at both tackle positions, and will be groomed to potentially take over a starting job in a few years.
Willie Young was a steal in the 7th round. However, he may struggle to make the roster in Detroit. Their defensive line is now one of the strong suits of the team and they're very deep at defensive end.
Mr. Irrellevant, Tim Toone, will have to fight to make the roster at receiver. His best chance will be to stand out on special teams.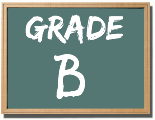 Overall, this was a solid but unspectacular draft for the Lions. I would have liked to see them land a weak-side linebacker to replace Ernie Sims. Someone like Darryl Washington would have been a perfect fit in the late 1st round instead of Jahvid Best. Ultimately I can't criticize the draft too much though. They landed the best player in the entire draft class. The Lions are definitely headed in the right direction.