I guess this is what you get when you hire a 70-year-old first-time GM. Buddy Nix has been a well-respected scout for years, but he's simply not suited to be the general manager in Buffalo.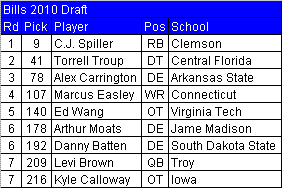 C.J. Spiller was one of the worst picks of the 1st round. Entering the draft the Bills had needs at just about every position, including some positions that had great value in the top 10. Dan Williams and Anthony Davis would have made perfect sense. A case could have been made for Jimmy Clausen. Even Dez Bryant would have filled a need. The one position that they didn't need to address was running back.
On top of that, I don't view C.J. Spiller as a top-10 talent. I know many do, but I believe he's too small to be an elite running back in the NFL. His defenders will point to Chris Johnson, but he's the exception to the rule.
I give the Bills credit for realizing that Kyle Williams can't play nose tackle and addressing that need in the 2nd round, but Torrell Troup? I like Troup, but he isn't better than Terrence Cody, Cam Thomas or Linval Joseph. At best, he was the 4th-best nose tackle on the board. I gave him a 3rd-round grade, and even that was generous due to the fact that he plays a premium position.
As much as I disliked the first two picks, I love the selection of Alex Carrington. I think he's a perfect fit at defensive end in their new 3-4 scheme. They really needed to address the defensive line and they did a great job recognizing that as a serious hole that needed to be filled.
I also like the selection of Marcus Easley in the 4th round. He came out of no where and put up huge numbers at Connecticut this past season. You should always be wary of one-year wonders, but in the 4th round he was well worth the risk. They need a No. 2 behind Lee Evans and Easley could potentially fill that role as early as this season.
Ed Wang had value in the 5th round, but its concerning that they didn't address the offensive line until day three of the draft. He's a career underachiever who may be put in a tough position in Buffalo if they ask him to start early on.
Arthur Moats and Danny Batten will both likely move to linebacker in Buffalo. They're developmental prospects, but they should see time early on. The Bills needed to add depth at linebacker in order to make the transition to a 3-4 defense.
Levi Brown was a solid 7th-round pick. He's a developmental prospect with some upside, but the Bills really needed to find someone earlier in the draft. The Bills just don't have the veteran presence at quarterback for Brown to learn from. This was a less-than-ideal landing spot for him.
I love the pick of Kyle Calloway in the 7th round. I was surprised to see him fall this far. He doesn't have a high ceiling, but he can certainly contribute and provide some much needed depth on their defensive line.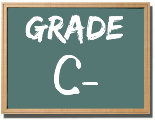 Overall, the Bills made some nice mid and late-round picks. However, they failed to find a franchise quarterback or a left tackle – the two positions that were far and away their biggest needs. This is the type of draft that simply destroys a franchise. The Bills are fading fast as an organization and they needed a solid draft to avoid joining the likes of the Raiders, Browns, Lions and Rams as the perennial bottom dwellers of the league. Based on their inability to address key areas of need, they all but guaranteed themselves of another top-10 selection in 2010.