The selection of Dez Bryant came as no surprise, we all know Jerry Jones loved him, but it is still a puzzling move. The Cowboys had nice trio of receivers last year with Miles Austin, Roy Williams and Patrick Crayton. Despite Williams' struggles the addition of Bryant seems unnecessary, especially with other holes to fill.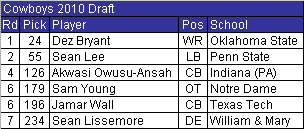 Bryant is an elite talent, but concerns about his maturity level are not blown out of proportion as some will have you believe. There are legitimate reasons to be concerned about his ability to handle life in the NFL. Obviously the Cowboys felt that the risk/reward was tilted in their favor with the 24th pick. Its hard to argue with that assessment considering that, talent-wise, he has the skills of an obvious top-10 pick.
I love the selection of Sean Lee in the 2nd round. Keith Brooking turns 35 in October, and his starting job will likely be handed to Lee in 2011. That said, I don't see how they could justify taking a wide receiver and a linebacker with their first two picks. The Cowboys have every reason to believe they can contend for a Super Bowl title in 2010, but how do they plan on doing that without a left tackle? Charles Brown was on the board and looked like an obvious choice. An argument could have been made for Vlad Ducasse or Jared Veldheer as well.
In terms of upside, it doesn't get much better than Akwasi Owusu-Ansah in the 4th round. I think he has the size and speed to be an elite player in the NFL at either free safety or cornerback. However, small school defensive backs rarely make a smooth transition to the NFL which is a big reason why he fell on draft day. He's in a great position in Dallas to sit and learn if he needs to, but he's definitely in the mix for the starting free safety job.
Sam Young will be given the chance to win the starting left tackle job, but only because no one else is an obvious candidate. Unless they bring someone in between now and the start of the season, the competition will likely be between Young and Doug Free.
Jamar Wall was a nice 6th round pick. He can provide depth at cornerback or free safety. He's nothing special, but should be able to make the Cowboys roster.
Sean Lissemore will be given a chance to compete for a backup job at defensive end, transitioning from playing tackle in college. He's fairly athletic for his size and has some upside, but he'll have to fight for a roster spot.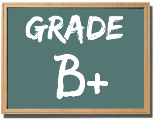 Overall the Cowboys did a nice job in the draft but failed to add a guaranteed solution to their problems at either left tackle or free safety. For a team in contention for a championship, that's a major oversight. On the bright side, they did get two players in the first two rounds that project as future starters for years to come. They both come with risks though (character and injury) raising some concerns that this draft could wind up being a major flop.