Wide receivers are a tricky group of guys to judge.
The raw talent between the elite receivers in a draft class and the next group of players may be greater than any other position. However, raw talent rarely translates into immediate NFL success.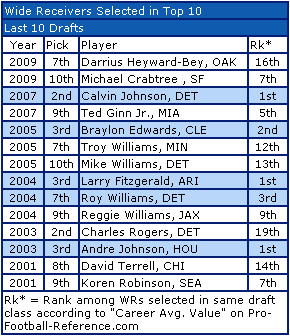 Over the previous 10 drafts there have been 14 receivers selected within the first 10 picks. Of those 14, only five of rank among the top three receivers taken in their draft class [according to the stat "Career Approximate Value" on Pro-Football-Reference.com].
So what makes a receiver actually worth a top-10 pick?
To answer that question, you need to go beyond the stats and look at the player as an individual. The three receivers who ranked at the top of their draft class all have one thing in common – they are three of the most well-respected people in the NFL.
Calvin Johnson, Larry Fitzgerald and Andre Johnson don't make the highlight reel for their touchdown celebrations or their contract demands. They simply go out and play football. They are among the hardest working players on their team and none have the "diva" attitude that plagues so many elite receivers.
A.J. Green - who officially declared for the draft on Sunday - is the consensus top available receiver, and will likely be a top-10 pick.
So is he worth it?
At this point, I honestly don't know but the initial indications aren't good. Green was suspended four games this past year for selling a jersey to an agent. I'm not willing to condemn his draft stock for this alone, but it raises concerns which NFL teams will ask numerous questions about at the combine and in his private workouts.
Talent-wise, Green is on par with any of the elite receiver in the NFL. He will be a 1st-round pick, but how he handles these interviews and how he presents himself as a person – as well as how his Georgia coaches portray him to NFL scouts, coaches and GMs – will determine just how high he is selected.