Jared Gaither may be the most under-appreciated offensive lineman in the game, even by his own team.
Despite an impressive 2009 season the Ravens only placed a 1st-round tender on Gaither, making him an intriguing option for someone else to sign to an offer sheet.
The folks at ProFootballFocus have been pleading for someone to sign Gaither via Twitter, and I couldn't agree more with their sentiments. Why waste time developing a draft pick when you can get a Pro Bowl-caliber 24-year-old for the same price?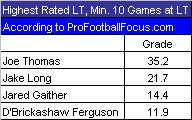 Gaither wasn't just good in 2009, he was among the game's elite. He allowed just four sacks in in the 430 pass plays in which he was on the field for, an impressively low percentage. According to ProFootballFocus' grading system Gaither ranked 3rd among left tackles who played at least 10 games last season, trailing only the two best young tackles in the game, Joe Thomas and Jake Long.
Numerous teams own mid-to-late 1st-round picks and are in the market for a left tackle. The 49ers, Cardinals, Cowboys and Packers are just a few of the teams that would benefit from bringing Gaither aboard rather than trying their luck with Bryan Bulaga, Trent Williams or Anthony Davis.