Remember when Jimmy Clausen was supposed to be the most NFL-ready quarterback prospect in the draft?
It's far to early to call him a bust, but his biggest flaw in college is coming back to haunt him in the NFL. In my scouting report on Clausen last spring I wrote
Will dance in the pocket and rush his throws when consistently pressured; makes too many mistakes due to losing his mechanics in these situations.
At Notre Dame, this was rarely an issue. They had a decent offensive line and he was able to overcome this deficiency due to his elite talent in other situations. In the NFL, where quarterbacks are pressured on a consistent basis, this problem has become magnified.
According to ProFootballFocus.com, Clausen has been "pressured" on 40 of his 126 dropbacks this season. 11 of those 40 pressures have resulted in sacks. Now the offensive line is undoubtedly to blame for some of those sacks, but it's also unfair to place all the blame Jordan Gross and company.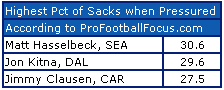 To get a better appreciation for Clausen's struggles, compare him to the rest of the league. Among quarterbacks with at least 25 dropbacks under pressure, only Jon Kitna and Matt Hasselbeck have a higher percentage resulting in sacks.
That's not exactly the company you want to keep in a statistic like this. Hasselbeck is 35 and Kitna is 38. Their excuse is a lack of mobility. The 23-year-old Clausen should be expected to avoid sacks more easily, even as a rookie.
But Clausen's struggles aren't limited to sacks. When Clausen does get rid of the football – which he's done 27 times – he completes just 33.3 percent of his passes. That's significantly lower than Hasselbeck (49.0 pct) and Kitna (68.4 pct).
So how do the Panthers fix this?
It's simple: practice. There is nothing wrong with Clausen. His mechanics are fine and he has plenty of arm strength and mobility. There's no reason why he can't grow out of this phase. However, he clearly has more work to do than most scouts and draftniks anticipated.