In terms of value, Dan Williams was one of my favorite picks in the 1st round. Considering the emphasis that teams running 3-4 defenses have placed on nose tackles, I expected him to come off the board early. When he started to fall, I even thought someone that didn't really need a nose tackle (the Steelers, for example) would take him because he was simply the best available player.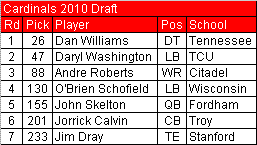 In Arizona, Williams will team with Darnell Dockett and Calais Campbell to give the Cardinals one of the most impressive defensive lines in the game. If he lives up to his potential early on, their defense could be much better than expected in 2010.
I like Daryl Washington, but I don't necessary like how he fits into Arizona's defense. He's slightly undersized and for that reason I think he's better suited for a 4-3 defense.
Andre Roberts is a decent 3rd round pick, but I was surprised they didn't go after a more NFL-ready receiver. They really needed to find someone who would help Matt Leinart (or Derek Anderson) right away and I don't know that Roberts will be able to do that.
I don't like the selection of O'Brien Schofield for two reasons. One, he is undersized, much like Washington. He just doesn't look like a great fit for a 3-4 defense unless he bulks up significantly. Two, he's coming of an injury. The Cardinals want to win now and they needed a linebacker who could play immediately. It's uncertain whether or not Schofield will be ready for the season.
John Skelton is a great fit for the Cardinals. They obviously have concerns about Matt Leinart, but they didn't want to push the panic button just yet and take someone in the early rounds. Instead, they rolled the dice on Skelton in the 5th. They can bring him along slowly and develop him over the course of a year or two with Leinart as the starter. That should be enough time to determine if Skelton can be a starter of if they need to start over.
Jorrick Calvin will add depth at cornerback and help replace Bryant McFadden. I would have liked to see them add a cornerback earlier than the 6th round, though.
Tight end was another position that the Cardinals should have addressed earlier. Jim Dray has limited upside and will struggle to beat out Anthony Becht, Ben Patrick or Stephen Spach for a spot on the roster.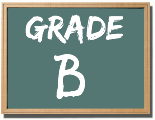 Overall, this was a solid but unspectacular draft for the Cardinals. They hit a home run with Dan Williams in the 1st round, but I'm not confident that anyone else from this draft class will develop into a starter. I like the draft, but I'm not as enthusiastic about it as I have been in years past. The Cardinals have developed a reputation under Rod Graves and Steve Keim as being one of the top teams in the draft, and this year's class didn't quite live up to expectations.