This draft was all about filling holes in an effort to make another deep run the playoffs in 2011 and the Jets did a solid job addressing those needs as well as getting good value at each slot.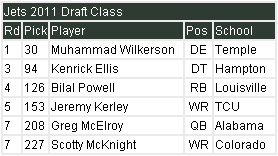 It's tough to find anything negative to say about the selection of Muhammad Wilkerson. Personally, I liked Cameron Heyward more, but Wilkerson was just a notch behind him in my book. He will likely be plugged into Shaun Ellis' spot at defensive end and start from day one.
I absolutely love the selection of Kenrick Ellis in the late 3rd round. The only reason he fell that far was due to concerns about his character and the level of competition he faced in college. He was dismissed from South Carolina after failing drug tests, but had he stayed out of trouble and remained in the SEC I strongly believe he would have been viewed on the same level as Phil Taylor. The difference between the two in terms of raw talent really isn't that great.
Bilal Powell had decent value in the 4th round, but I'm not sure if he's a great fit for the Jets. I would have liked to see them draft a more versatile running back (a better version of Joe McKnight). Powell is similar runner to Shonn Green, and will probably struggle to see significant playing time early in his career.
The selection of Jeremy Kerley has brought some to assume that it signaled the end of the Brad Smith era in New York. I don't know that I buy that. Kerley is 5'9″ and well under 200 pounds. Smith is 6'2″ and 210 pounds. They both return kicks, but as receivers they fill different roles. Don't make the mistake of thinking Kerley can step right into Smith's place in the offense.
Greg McElroy is well worth a 7th round pick. He has very little upside, but I would love to have him as a backup on my team. He's a hard worker and an intelligent player. I wouldn't want him as my starter, but if he had to step in off the bench, I'm confident that he can hold his own.
I have a hard time taking the selection of Scotty McKnight seriously. He's Mark Sanchez's childhood friend and that connection is the only reason he gained any recognition this offseason. He wasn't even ranked among my top 50 receivers.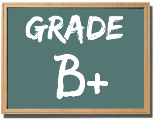 Aside from throwing a bone to Sanchez in the 7th round, the Jets did a nice job in this draft. Wilkerson will start immediately and Ellis will see some playing time as Sione Pouha's backup. Powell and Kerley will play minor roles early on, but both have the potential to develop into more prominently featured players. The only strong criticism I have is the lack of an outside linebacker. The depth behind Calvin Pace and Bryan Thomas, who are both over the age of 30, is severely lacking. Adding a young pass rusher, even in the 4th or 5th round, would have been a welcomed addition.