The Super Bowl champion Green Bay Packers added very little immediate help, but did a nice job adding depth in the form of players who could develop into starters down the road.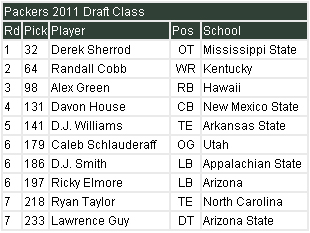 The first such pick was Derek Sherrod, who will likely ride the bench for much of 2011 before stepping in for soon-t0-be 35-year-old Chad Clifton at left tackle. By no means is Sherrod the next Orlando Pace or Jonathan Ogden, but he could be a quality starter for the next 10 years – much like the man he will replace. With Sherrod on the left and Bryan Bulaga on the right, the Packers should have Aaron Rodgers adequately protected for the duration of his career.
Randall Cobb may be the only player in this class to make an immediate impact. Rodgers made the Packers receivers look adequate in 2010, but aside from Greg Jennings they lack any true playmakers. The addition of Cobb should allow offensive coordinator Joe Philbin to get a little more creative with the offense.
Alex Green was a definite reach in the 3rd round. He has about six games of meaningful experience under his belt – and that's assuming you call playing in the WAC meaningful. He's a good athlete for his size, but there's no guarantee that he even makes the 53-man roster with Ryan Grant, James Starks and Brandon Jackson possibly ahead of him on the depth chart.
Davon House fits into the Sherrod category of a player who may see minimal playing time in 2011 but could develop into a starter down the road. At least three corners – Charles Woodson, Tramon Williams and Sam Shields – are solidly ahead of him on the depth chart, but a spot will open up in the very near future once Woodson hangs up the cleats.
D.J. Williams was a productive receiver at Arkansas, but I'm not sure how he fits into the NFL. Is he a fullback or is he a tight end? It may take some time before he finds a niche, and it may not be in Green Bay.
Caleb Schauderaff was a four-year starter who can play multiple positions on the line. His upside is very limited, but he could potentially carve out a long career for himself as a versatile backup.
D.J. Smith is tiny for a NFL linebacker, and will be forced to play inside in Green Bay's 3-4 scheme. Depth really isn't an issue there, so he may struggle to find a spot on the roster.
I love the selection of Ricky Elmore in the 6th round. I gave him a late 3rd-round grade as a defensive end, but he definitely has the athleticism to shift to linebacker in Green Bay. I wouldn't rule him out as a potential starter opposite Clay Matthews.
Ryan Taylor is another tight end/fullback 'tweener. He's probably best suited to play fullback and could be given an opportunity to win a starting job if John Kuhn isn't re-signed.
Lawrence Guy is a 3rd-round talent who slipped due to character concerns. He's a decent athlete for his size and should be a great fit at end in the 3-4 defense. If he stays motivated and plays to his full potential he could be one of the better steals of this draft.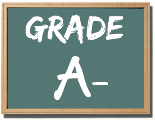 As a whole, the Packers did a nice job mixing value with filling needs. The only glaring omission from this class was an outside linebacker capable of starting opposite Matthews. Elmore could fill that role, but it would have been wise to grab someone before the 6th round. This class may not make a significant impact in 2011, but three years from now it could feature three starters.