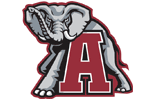 Rarely does significant new information come out regarding a prospect at this time of year. The folks at the combine generally do a good job poking and prodding until every stone has been overturned. But Rolando McClain revealed some surprising information at Alabama's pro day.
McClain announced that he has been suffering from Crohn's Disease since he was a freshman in high school, a disease that causes inflation of the intestines and can result in a variety of symptoms. The disease is treatable and it shouldn't hurt his draft stock, but its a key piece of information for teams to be made aware of before handing him millions of dollars.
McClain also revealed that he suffered a torn hamstring during Alabama's game on October 24 against Tennessee. He apparently kept the injury from his teammates and played through the pain.
Hamstring injuries usually hurt player's draft stock, but this may be a rare situation where it actually helps. Some scouts had questioned McClain's efforts down the stretch last season, sighting plays on which he was clearly not running at full speed after the ball carrier. The hamstring injury gives McClain a logical excuse, so long as it can be verified by Alabama's medical staff.
Along with giving him a reasonable excuse for what was perceived as a lack of effort, it demonstrates his willingness and ability to play through pain at a high level.
Other notes from Alabama's pro day:
- DT Terrence Cody weighed in at 349 pounds. That's down from 370 at the Senior Bowl and 354 at the combine. While teams would love to see him lose even more weight, they have to be encouraged by the effort he's put in so far. His stock is certainly on the rise as a result and he could sneak into the late 1st round.
- CB Javier Arenas was unable to work out due to the pulled hamstring he suffered at the combine.
- OG Mike Johnson took some snaps at center and reportedly looked good. The ability to play multiple positions is key for linemen who aren't viewed as locks to earn starting roles in the NFL.
- All 32 teams were represented. Glad to see the Raiders decided to show up after they inexplicably decided to skip Oklahoma's pro day earlier this week.