The Jacksonville Jaguars offense struggled in 2011, that's no secret.
Much of the blame was placed on rookie quarterback Blaine Gabbert, but a closer look at some advanced statistics reveals that perhaps Gabbert was simply a victim of poor play from his receivers.
AdvancedNFLStats.com tracks the Win Probability Added (WPA) of each play throughout the season, and assigns the final WPA to each player involved. Over the course of the season, they also track a stat called Success Rate, which is simply the percentage of plays resulting in a positive WPA.
On any given play, the reason for the positive or negative WPA could be attributed to any number of players. As a result, Success Rate should certainly be taken with a grain of salt. However, over the course of the season one would expect the numbers to even out to a fairly accurate representation of a player's true value. If you're wondering if this stat passes the "eye test" here are the top three receivers for 2011: Marques Colston (71.4%), Wes Welker (66.2) and Jorday Nelson (65.7).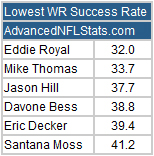 This stat also confirms that the Jaguars have a very serious issue on their hands at wide receiver. In 2011, the Jaguars three primary targets – Mike Thomas, Jason Hill and Jarett Dilliard – each ranked among the 14 worst receivers in terms of success rate. And only Eddie Royal struggled more than Thomas and Hill.
One could still argue that these low numbers are a result of poor quarterback play. But if that's the case, we should see similarly poor success rates from the receivers of quarterbacks with similar statistics to Gabbert. According to WPA, the three worst quarterbacks this past year were Gabbert, Sam Bradford and Mark Sanchez. However, only one of the qualifying receivers in St. Louis and New York, ranked worse than any of the Jaguars three primary targets (St. Louis' Brandon Lloyd, 42.0%)
So with this in mind, how should the Jaguars approach the draft?
While they certainly have other holes to fill as well, it would be tough to justify not putting a wide receiver at the top of their draft wish list.
Justin Blackmon – who I currently have heading to Jacksonville in my latest mock draft – would seem to be an obvious choice if he's on the board at No. 7. But what if he's gone?
One option, in the event that Blackmon appears unlike to fall, would be to trade up. Here's one plausible scenario: the Redskins trade up to No. 2 and select Robert Griffin. This leaves the Browns without the quarterback they covet, making them a candidate to trade down. The Jaguars could then jump the Rams, who would be at No. 6, and move up to No. 4 for Blackmon, likely parting with a 2nd-round pick in the process.
The second option would be to settle for the next best receiver, either Michael Floyd or Kendall Wright. Both would be a slight reach at No. 7, but could be worth it to fill a glaring hole.
The third option is to trade down in hopes of landing Floyd or Wright later in the 1st round. The Cowboys could be a potential trading partner, who may be interested in moving up for Dre Kirkpatrick.
For the same of Jaguars fans, I hope GM Gene Smith address this need in free agency, or in the 1st round. Because if he doesn't, you know that some small school sleeper will land in Jacksonville in the 2nd or 3rd round and, like Cecil Shorts this past season, will likely have minimal immediate impact.
About the author