I'll start by saying this: Colt McCoy got a raw deal in Cleveland.
McCoy is perfect for the West Coast offense, and should have excelled with the Browns, but wasn't surrounded with that talent he deserves. That said, after two disappointing and injury-plagued seasons, it's time for the Browns to strongly consider moving on.
The issue with the Browns offense – in part due to McCoy's very average arm strength, in part due to their pitiful receiving corps – was their inability to pick up large chucks of yardage. As a team, they completed just 19 passes of 25 yards or more, the league's fourth-lowest total.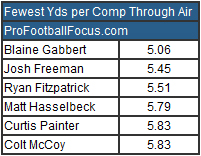 Another issue with the Browns offense was McCoy's tendency to check down on nearly every play – again, in part due to his receivers' inability to get open down the field. According to ProFootballFocus, McCoy's competions traveled only an average of 5.83 yards through the air – the 6th-lowest average this season.
So where do the Browns go from here?
Assuming that trading up for Andrew Luck is not an option, they could settle for the next best thing: Robert Griffin III. But is he a good fit for their offense?
The Browns will continue to run a West Coast offense under new coordinator Brad Childress in 2012, which means we shouldn't expect them to suddenly start tossing the ball all over the field. For this reason, one could argue that Griffin isn't a great fit.
At Baylor, Griffin played in Art Briles wide open spread attack, primarily taking snaps from the shotgun. With weapons like Kendall Wright and Terrance Williams, a strong offense line, and the aid of standing in the shotgun, Griffin had plenty of time to stand in the pocket and wait for a receiver to break free. He won't have that luxury in the NFL – especially not in the West Coast system.
But that doesn't mean Griffin can't excel in Cleveland.
The Browns are desperate for a playmaker and Griffin's big arm and elite athleticism will add a new dimension to their offense. He may not have the ideal skill set for the West Coast system, but a good coaching staff will always find ways to adjust to the players around them. Brad Childress worked with Donovan McNabb for the first seven years of McNabb's career, and while McNabb never had Griffin's athleticism, his mobility was a big part of the Eagles offense early in his career.
Griffin can change the Browns offense and, in time, could develop into more of a prototypical West Coast quarterback.
About the author