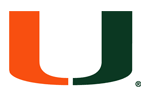 Miami Hurricanes running back Lamar Miller has decided to enter the NFL Draft, forgoing his junior and senior years. The redshirt-sophomore will be in the mix to be the second running back off the board following Trent Richardson (assuming he also turns pro) and could sneak into the late 1st-round.
Miller is an interesting prospect, who has been compared to Eagles running back LeSean McCoy by some. He's an impressive athlete, who has shown an ability to contribute in the passing game, making him one of the more well-rounded running back prospects in this draft class.
Given the lack of quality quarterback play at Miami, and all-around mediocre play by those around him, it's reasonable to assume Miller's best days are still ahead of him. He would make a lot of sense for team like the Cincinnati Bengals in the late 1st round, or possible a team like the Cleveland Browns in the early 2nd.
About the author