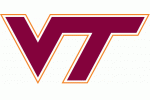 According to the Washington Post, Virginia Tech Hokies cornerback Jayron Hosley is likely headed to the NFL.
Hosley is waiting to hear back from the NFL Draft Advisory Committee, but stated "right now my mind is I'm moving on after this season."
Depending on who else turns pro at his position, Hosley may be considered 1st-round pick by some teams, but could come off the board anywhere between the late 1st and early 3rd round.
Hosley has been a playmaker throughout his career, recording 12 interceptions over the past two seasons. However, he is listed at just 5'10″, 179 pounds, which is significantly smaller than your average starting cornerback. Some teams may view him strictly as a nickel back, which would drop him on their board.
About the author