The Philadelphia Eagles didn't have many holes to fill, but they added a few instant impact players while getting quality value with most of their picks. It wasn't an exciting draft, but they should come away with a few starters.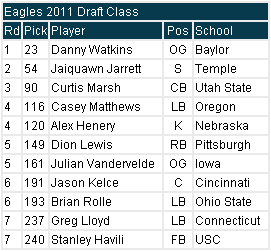 It's impossible not to like Danny Watkins, but the 23rd pick may have been a bit early for a 26-year-old interior lineman, especially considering the fact that he may not be a significant upgrade over Max Jean-Gilles. He'll start from day one, but he doesn't have the same elite upside that usually allows for an interior lineman to climb into the 1st round.
I was surprised by the selection of Jaiquawn Jarrett in the 2nd round. It was only a slight reach, but I thought Kurt Coleman did a nice job at strong safety as a rookie last year. Apparently the selection of Jarrett means they're giving up on Coleman after just one year.
Curtis Marsh was a great 3rd round pick. He may not have the instant-impact that they needed, but he has the potential to develop into a starter down the road.
I love the selection of Clay Matthews. He may not be an every-down player, but should be an effective situational pass rusher at strong-side linebacker.
Alex Henery was a reach and there's just no way to defend this pick. For starters, he wasn't the best kicker in the draft. And the Eagles situation at kicker was not desperate enough to warrant a 4th round pick even if he was.
Dion Lewis was a reach in the 5th round. He's undersized and will be a mediocre backup at best. If Jerome Harrison is re-signed, Lewis may struggle to see the field as a rookie.
Julian Vandevelde will provide quality depth at guard. His upside may be limited, but he should have a long career as a backup.
The selection of Jason Kelce, their third interior lineman of the draft, is confusing. He's going to have to fight for a roster spot.
Brian Rolle could be a steal in the 6th round. He's perfect for their defensive scheme – slightly undersized and athletic – and should compete for playing time at weak-side linebacker.
Greg Lloyd will likely compete for the backup inside linebacker job, but could also provide depth on the strong and weak sides.
Stanley Havili was my top-rated fullback, but he's going to have a very difficult time stealing playing time from Leonard Weaver and Owen Schmitt. He definitely had value in the 7th round, but he just doesn't appear to fit into Philly's plans.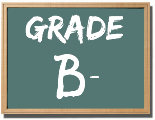 As a whole, this was a solid draft for the Eagles. However, they failed to add any true impact players. Based purely on depth they'll likely find two or three long-term starters from the mix, but this is a fairly ordinary class with limited upside.
About the author