This draft showed why Jerry Reese is one of the most under-appreciated general managers in the game and why the New York Giants have remained competitive throughout his tenure. He finds the perfect blend of value and need and puts together another excellent draft class.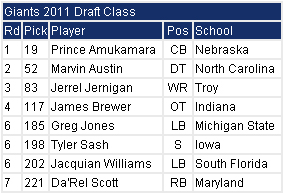 The selection of Prince Amukamara was all about value. Cornerback wasn't their most pressing need, but he was arguably the best player on the board. He should have no problem winning a starting job, and could emerge as their top corner by the end of his rookie year.
Marvin Austin filled a hole and had great value in the mid 2nd round. Had he played the 2011 season I strongly believe he would have emerged as a top-20 talent. There are some concerns about his character, but if he plays with a chip on his shoulder due to the fact that he fell to the 2nd round, watch out. He could develop into a dangerous interior pass rusher.
Jerrel Jernigan also had decent value in the 3rd round and should compete for playing time as the 3rd or 4th option at receiver. He's very similar to Steve Smith, however, which makes me wonder how the Giants plan to use both of them on the field at the same time. Jernigan's playing time may be limited to four receiver sets.
James Brewer has very little upside, but could have a long career as a backup. He has the ability to play both tackle and guard and should be a valuable backup early in his career before potentially taking over a starting job down the road.
Greg Jones has a ton of potential, but never fully lived up to expectations at Michigan State. He needs to become a more disciplined player on the field, but in the 6th round he was well worth the risk.
I love the selection of Tyler Sash. He will immediately make an impact on special teams and could see playing time as a backup at strong safety.
Jacquain Williams adds depth to a weak group of linebackers. He's more of a developmental prospect, however, and the Giants were in need of someone who could contribute immediately.
Da'Rel Scott's stock soared at the combine when he impressed with his speed, but ultimately his inconsistency in college held him back. The Giants needed to add a running back in case Brandon Jacobs doesn't return, but Scott probably isn't going to fill that void.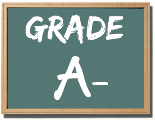 As a whole, this was very close to a perfect draft class for the Giants. However, they failed to add the necessary depth at linebacker and running back and seemed to desperately reach to fill those voids in the late rounds. However, they did land two players who should be long-term starters and at least two others capable of contributing as backups immediately.
About the author