This wasn't the most exciting draft in Dallas Cowboys history, but I like the way they addressed their biggest needs while still getting players who had good value at each slot. It was a smart, safe draft which should immediately improve their team.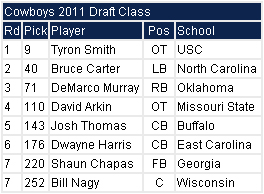 Tyron Smith isn't your typical top-10 pick in the sense that he isn't nearly as polished as most highly routed prospects. However, he makes a lot of sense for the Cowboys. They desperately needed to upgrade the offensive line and Smith was the top prospect in this class.
I really like Bruce Carter, but I'm not sure how he fits into the scheme in Dallas. He's probably too small to be a traditional 3-4 outside linebacker, however, he is at his best when used as a speed rusher off the edge. Rob Ryan may need to get creative to best use his abilities.
The selection of DeMarco Murray likely ends the Marion Barber era in Dallas. There's no need to carry four quality running backs, and Barber is probably the odd man out. Murray has the potential to be a starter and could see significant playing time this season if he impresses early.
David Arkin is a nice developmental prospect. The 4th round may have been a bit early, but he'll provide valuable depth at both guard and tackle.
I like Josh Thomas in the 5th round, but it would have been nice to see the Cowboys add a cornerback earlier in the draft. Every defensive back on the roster underperformed in 2010 and some immediate help would have been nice. Thomas is more of a developmental prospect, who probably does more on special teams than at cornerback this year.
Dwayne Harris could contribute as a slot receiver immediately. The top three receivers are set, but there is definitely room for another contributor in the rotation.
Shawn Chapas will compete with Chris Gronkowski for the starting fullback job. The loser likely gets cut.
Bill Nagy is a tough run blocker who could win a job as the backup center. In time, he could develop into a starter. The Cowboys interior line is getting up there in age, so Nagy should be ready to step into a starting role should the injury bug bite the Cowboys this year.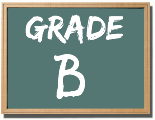 Despite their record in 2010, the Cowboys can compete this year if healthy and this draft class definitely will help. Tyron Smith should start immediately, and Carter and Murray will both contribute in various roles. They probably didn't land 3 to 4 long-term starters, but they improved the team for the short run and added a number of nice pieces who can contribute in reserve roles.
About the author