Does A.J. Smith want to get fired? The San Diego Chargers GM is on the hot seat, and this was not the draft of someone looking to save his job. After a decent 1st-round selection, Smith made reach after reach and could now be in his last few months as GM if the 2011 season doesn't result a deep playoff run.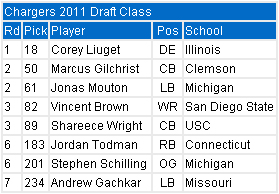 Corey Liuget wasn't the best player on the board at his position, but at least he was a consensus 1st-round pick and fills an area of need. He will be a heavy favorite to win a starting job in training camp.
Marcus Gilchrist was a reach at No. 50. He's a safety/corner 'tweener and may struggle to find a defined role in San Diego. Based on their needs, they're likely to start him at corner where he'll compete for the nickel job.
Jonas Mouton was a reach of epic proportions – the type usually reserved for Al Davis. I did not give him a draftable grade, and wouldn't have even ranked him among the best undrafted players. I don't see how he fits into the defense in San Diego.
Vincent Brown is a decent 3rd-round pick, but another slight reach. Given the uncertain futures of Vincent Jackson and Malcolm Floyd, however, adding a receiver here was necessary. Depending on how things play out, he could end up playing a significant role in the offense as a rookie.
Shareece Wright may actually be a better cornerback than Gilchrist. He isn't as polished and doesn't have as much experience, but could prove to be the better player in the long run.
I love the selection of Jordan Todman in the 6th round. I felt he was overrated by many prior to the draft, but in the 6th round he could be a steal. Adding him behind Ryan Mathews was one of the few smart decisions the Chargers made in this draft.
I also like the selection of Stephen Schilling, one of the more underrated linemen in this class. As a four-year starter at Michigan he gained valuable experience playing in multiple offensive schemes. He could compete for playing time early in his career.
Andrew Gachkar is undersized and may struggle to win a spot on the roster. He'll be converted to inside linebacker and may need a year on the practice squad before he's ready to see action.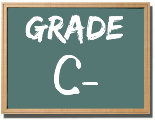 This draft was nothing short of a disaster for the Chargers, who failed to add the necessary pieces to make another run at the playoffs. In a weak division they may still be competitive in 2011, but anything less than a playoff appearance will end the A.J. Smith era – and this draft class will be a big reason why.
About the author