The Oakland Raiders won't be contenders until Al Davis is dead. This is the sad but very real truth that Raiders fans have to live with. He continues to insist on making the draft day decision, despite the fact that looking at combine numbers appears to be his only participation in the scouting process.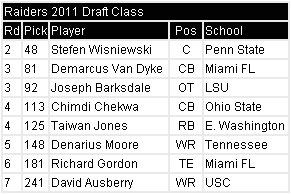 Stefen Wisniewski was a decent selection in the 2nd round, even if it was predictable. Davis probably never saw Wisniewski play, but saw his last name on the combine list and immediately settled on the nephew of former Raider great Steve Wisniewski. He'll compete for the starting job at center.
With his second pick in the draft Al Davis, very predictably, grabbed the fasted player in this year's class, Demarcus Van Dyke. Unfortunately speed is about all Van Dyke has to offer. He's undersized and saw limited playing time at Miami.
Joseph Barksdale satisfied Davis' need for the biggest and strongest lineman in the class. Barksdale's LSU career was underwhelming to say the least. He has a ton of potential, but never came close to living up to expectations in college.
Chimdi Chekwa had good value in the 4th round, even if Davis only stumbled onto him due to his 40 time. He is significantly more prepared for the NFL than Van Dyke and could compete for a starting job.
Davis went back for more speed with the selection of Taiwan Jones, possibly the fastest running back in this year's class when healthy. Unfortunately he has a long history of injury problems and limited experience against top competition.
Denarius Moore showed steady improvement throughout his career and could be one of the better late-round picks in this draft if he continues to develop. However, it's tough to see how he'll fit into the offense in Oakland. Due to Davis' obsession with size and speed they have about six receivers who are all equally mediocre.
Richard Gordon adds some much needed depth to the tight end position. He'll compete for the backup job behind Zach Miller, assuming Miller is re-signed.
David Ausberry was a wasted pick and will struggle to make the final roster. There are at least six receivers ahead of him on the depth chart.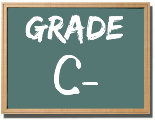 Once again, Al Davis put together a draft class heavy on size and speed and light on talent. A few starters may emerge from the class, but this isn't a group that's going to change the Raiders fortunes. They're destined to continue to lose as along as Davis is calling the shots.
About the author