Maybe Scott Pioli had less of a say in the Patriots draft plans than we all assumed. In his first draft with the Kansas City Chiefs he selected safety in top 10 (very un-Belichick-like) and this year he reached for a receiver in the 1st round (even more un-Belichick-like).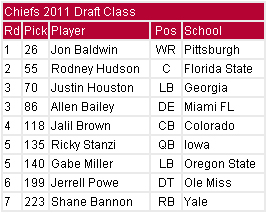 The selection of Jonathan Baldwin was one of the most confusing of the 1st round. There's no denying his talent, but I see no reason to spend a 1st-round pick on a player who only shows up when he wants to. If a guy has that type of attitude while playing in the Big East, what leads you to believe he'll change in the NFL? Baldwin will make some big plays here and there, but he'll also drive coaches and fans crazy by failing to show up in big moments.
Rodney Hudson was a much safer and much more Belichick-like pick in the 2nd round. If Rudy Niswanger is not re-signed, Hudson could start from day one at center.
Justin Houston was viewed as a potential 1st-round prospect but fell, in part, due to his positive marijuana test at the combine. Kansas City is truly the perfect fit for him. His defensive coordinator at Georgia, Todd Grantham, coached under his new defensive coordinator, Romeo Crennel, in Cleveland. That connection undoubtedly played a role in this selection.
Allen Bailey is another talented but terribly inconsistent player. He has the potential to start at the next level, but he needs to show a more consistent effort on the field.
Jalil Brown is slightly overrated in my opinion, but I will say this: he's battle tested. Opponents looked to avoid Jimmy Smith over the post few seasons and often threw in Brown's direction. His upside may be limited, but he's ready to contribute in some capacity as a rookie.
Ricky Stanzi is a nice developmental prospect for the Chiefs. Matt Cassel has been good but not great thus far in Kansas City, and the Chiefs are preparing for the possibility that they may be interested in an upgrade at the position in another year or two.
Gabe Miller is likely nothing more than a special teams player who was a reach in the 5th round. He'll have to fight to make the final roster cut.
Jerrell Powe fell much further than I expected and is a great fit in Kansas City. Due simply to a lack of other options at the position, Powe could be in line for the starting job at nose tackle.
Shane Bannon will be given an opportunity to win the starting fullback job. If loses the battle, it's unlikely that he'll be kept on the roster.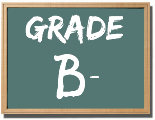 This was a boom-or-bust draft class for the Chiefs. The only slam dunk pick was Rodney Hudson, who at worst should be an adequate starter on the offensive line. If everyone else plays up to their full potential, however, they could have as many as four long-term starters. But that's a big if considering the question marks surrounding Baldwin, Houston and Bailey.
About the author