The Broncos had too many holes to fill in just one draft, but they did a nice job identifying the most glaring issues and got the rebuilding process started. The franchise won't be turned around in one year, but this was a step in the right direction.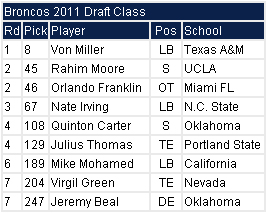 Von Miller was a legitimate early 1st-round prospect, but taking him at No. 2 was a reach – especially considering the fact that his ideal position was as a 3-4 outside linebacker. A strong case could be made that he was the best available player for a team like Buffalo or Arizona, but not the Broncos. That's not to say he'll fail – I still think he can be a quality starter – but he may never fully live up to expectations.
I love the selection of Rahim Moore in the 2nd round. He'll spend a year in a backup role learning behind Brian Dawkins before taking over the starting free safety job in 2011. This is an ideal situation for both Moore and the Broncos.
The Broncos reached slightly for Orlando Franklin, who has a ton of ability but never fulfilled expectations at Miami. He primarily played left tackle at Miami, but lacks the athleticism necessary to play that position at the next level. He may even need to shift inside to guard.
It's hard not to root for Nate Irving, who missed the entire 2009 season due to injuries a devastating car crash. He was tremendously productive in his return this past season and should only continue to get better the further removed he is from those injuries. He could prove to be a steal from the 3rd round.
Quinton Carter could be a nice compliment to Rahim Moore in the Broncos secondary. He has the ability to play either safety position and could potentially win a starting job at strong safety down the road. In the meantime, he'll make an immediate impact on special teams.
Julius Thomas is a converted basketball player who has a lot of upside, but will offer very little help in 2011. The Broncos are desperate for a pass-catching tight end, so it would have been nice to see them add someone who could make more of an immediate impact.
Mike Mohamed is a smart, fundamentally sound player who should be a solid backup in Denver. He could play inside or weak-side linebacker.
Virgil Green is a similar prospect to Julius Thomas, and may actually offer more in terms of immediate contribution. He's an elite athlete for the position and could be used as a weapon in the passing game.
Jeremy Beal was a productive collegiate lineman/linebacker but has limited athleticism and may have already maxed out his potential. He's worth taking a chance on in the 7th round, but he'll have to fight just to make the roster.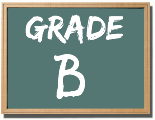 The Broncos added only one immediate starter (Miller) which is somewhat disappointing. Down the road, however, Moore, Franklin, Irving and possibly Carter and Thomas could develop into starters. That's too many ifs to give them an A, but the class certainly has the potential to improve their grade over the course of the next few years.
About the author