The Minnesota Vikings class is very similar to the Titans: a complete debacle in the 1st round, followed by some very solid mid-round selections. Unfortunately no amount of mid-round picks can make up for reaching for a quarterback with the 12th overall selection.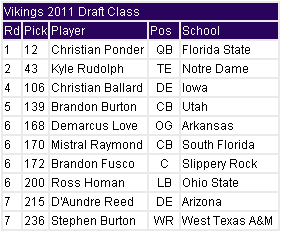 Christian Ponder was mediocre college quarterback with a history of arm injuries. What exactly about that summary could lead anyone to even consider him in the 1st round? Take away the injuries and I could see rolling the dice in the 2nd round, but under no circumstances is he a 1st-round talent. This was a desperation draft pick of epic proportions, and one that the Vikings will regret for years to come.
As misguided as the selection of Ponder was, I do have to give the Vikings credit for rebounding in the 2nd round. Kyle Rudolph is a 1st-round talent, who slipped due to a recent injury. He'll become a go-to target for Ponder early in his career, especially if Sidney Rice isn't re-signed.
Christian Ballard played end at Iowa, but could shift inside to tackle to help replace Pat Williams. Based purely on talent he could have come off the board in the 2nd round, but likely fell due to a positive drug test at the combine.
I really like the selection of Brandon Burton in the 4th round. He isn't an elite athlete, and may ultimately be moved to safety, but will give the Vikings some much needed depth in their injury-plagued secondary.
Demarcus Love was a reach, even in the 6th round. There's no denying his talent (he was once considered a potential 1st-round pick) but his play is sloppy and lazy. He's the type of player that could be out of the league before his career even takes off if he doesn't show the motivation coaches need to see in training camp.
Brandon Fusco is one of the more underrated small-school prospects in this class. He'll have a chance to compete for the backup job at center and could provide depth at guard as well.
I love the selection of Ross Homan. He has experience at all three linebacker positions in the 4-3 defense and should give the Vikings valuable depth. He's a poor man's Chad Greenway.
D'Aundre Reed was primarily a backup at Arizona, and is a bit of a project, but he has the raw athleticism of an elite pass rusher. He's far from a guarantee, but the Vikings should be cautiously optimistic that they can develop him into consistent pass rush threat and an elite steal from the 7th round.
The Vikings really should have added a receiver before the 7th round if they're at all concerned about being able to re-sign Sidney Rice, but at least they got decent value for Stephen Burton. He'll have his work cut out for him fighting for a spot on the roster, but he has the potential to develop into a decent 4th or 5th option as a possession receiver.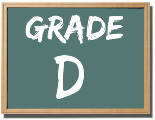 The Vikings did an excellent job filling holes and landing good value picks in the 2nd-7th rounds, but the selection of Christian Ponder overshadows all of that. If your 1st-round quarterback is a bust – no one remembers the rest of the draft, and for good reason. If Ponder doesn't work out, they'll be right back here drafting a quarterback in three years, having wasted the prime of Adrian Peterson's career.
About the author