It's hard not to like the players the Lions added in this class, but I do have some concerns about their strategy. You can add flashy players in the draft, and it appeases fans the media critics, but you still need to remember you're the Detroit Lions. They weren't in a position to make these luxury picks and expect immediate results, as many in the media are already predicting. Down the road, this could develop into an elite draft class, but only if they support these players with solid drafts in the years to come.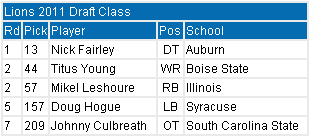 Nick Fairley certainly falls into the flashy category, and I would have no problem with the selection if he were their only flashy pick of the draft. While many have been quick to anoint Fairley and Suh the elite interior pass rush until in the league, they're forgetting the fact that both players are liabilities against the run. Yes, they will make some bone-crunching hits on quarterbacks but if your interior line is incapable of stopping the run, you won't be playing deep into January. Suh and Fairley are each at their best when supported by a nose tackle playing next to them to eat up space and multiple blockers.
Titus Young is an elite playmaker, and without character concerns would have been a 1st-round pick. However, I have the same mixed feelings about the selection as I did with Fairley. Were they really in a position to take a slot receiver over a less-sexy position such as an offensive lineman or cornerback?
I believe Mikel Leshoure was the best running back in this class so I can't argue with the Lions taking him at No. 57. The combination of Leshoure and Best could be a dangerous weapon if offensive coordinator Scott Linehan uses them correctly.
Doug Hogue will add depth at linebacker, and due to their lack of playmakers at the position could actually compete for serious playing time at the strong-side position. Bobby Carpenter doesn't exactly have the starting job locked down, so Hogue could make a run at the position at some point this season.
Johnny Culbreath is a left tackle project. He needs to bulk up, but definitely has the athleticism to play the position. He may spend the year on the practice squad before being given a chance to compete for a job in 2012.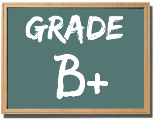 As I said in the into, the Lions added three great playmakers but I'm just not convinced that this was the year to use three luxury picks. All the Lions did in this draft was make their strong suit even stronger, but it wasn't the defensive line or the offense that kept them out of the playoffs in 2010. Until they find some serious upgrades in the secondary and on the offensive line, no amount of offensive weapons can turn them into a legitimate contender.
About the author