With just five picks there's only so much you can do, but the Chicago Bears did a decent job adding a few players who can make an immediate impact in their quest to make another deep run into the playoffs.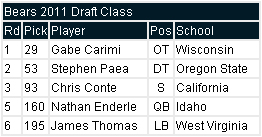 Gabe Carimi falling to them at No. 29 seemed almost too good to be true, however, the Bears could find a way to screw this up if they're not careful. The Bears coaching staff reportedly views Carimi as a left tackle. In the right system he could potentially play that position, but not in Mike Martz's pass-happy offense. Carimi is a tough, physical player but lacks the athleticism to hold his ground against the NFL's elite pass rushers while Jay Cutler stands in the pocket for what sometimes seems like an eternity. I do like Carimi, but I'm just not convinced he can be effective on the left side in Chicago.
Stephen Paea is a great fit for the Bears defense and could be a steal at No. 53. The release of Tommie Harris earlier this offseason opened up a gaping hole on the defensive line and Paea could potentially step in as the starter from day one. The only concern with Paea, and probably what kept him out of the 1st round, was the fact that his on-field play fell well short of his physical capabilities. He needs to find a way to play up to his full potential on a more consistent basis.
Chris Conte was a reach in the 3rd round and doesn't fill a glaring hole either. The Bears would have been wise to add a receiver with this selection, or perhaps another offensive lineman. Conte will compete for a backup job, but there's no guarantee that he'll beat out Major Wright or Craig Steltz.
I'm not a fan of Nathan Enderle. He has a big arm but that's about the extent of his NFL talent. His accuracy is severely lacking and I simply don't see him making an impact in the league. He is definitely not an upgrade over Caleb Hanie.
J.T. Thomas isn't anything special, but was a three-year starter at West Virginia and could win the backup weak-side linebacker job. The key to him making the roster will be his ability to contribute on special teams, which I believe he has the speed and athleticism to do.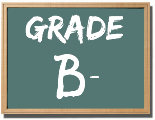 The Bears added two potential long-term starters out of their five picks, which qualifies this as a decent class. However, I have to knock their grade down slightly if they're going to play Carimi at left tackle. On the right side he would be a significant upgrade over J'Marcus Webb, but I don't think he's considerably better than Frank Omiyale at this point in his career. It's a risky move, which could turn out to be a wasted pick if he fails to make an immediate impact.
About the author