The Tennessee Titans brought in a strong class of rookies, many of whom can contribute immediately. However, when your 1st-round pick is a reach of epic proportions, it really doesn't matter what you did in the 2nd or 3rd round.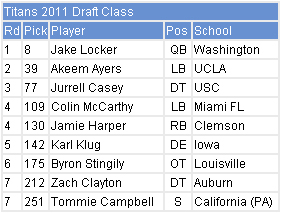 I thought the Titans learned their lesson after whiffing on Vince Young in 2006. You can't take a raw college quarterback, throw him to the wolves, and expect him to succeed. It's true that Jake Locker doesn't come with Young's character concerns and work ethic issues, but it doesn't change the fact that he isn't prepared for the NFL and may never be. His accuracy is well below NFL standards, and that's one of the most difficult things to change about a quarterback at this stage in his career. No matter how hard he works, he may simply lack the skills to play at an elite level. Now does that sound like a top-10 pick to you?
I really like the addition of Akeem Ayers in the 2nd round. He should be able to win a starting job over Will Witherspoon as a rookie. If he doesn't win the job, he'll provide depth at both outside linebacker positions.
Jurrell Casey is overrated in my opinion, and I also don't think he fills a glaring need in Tennessee. Taking a tackle in the 1st round (Nick Fairley?) would have been justifiable because they lack an elite interior lineman, but depth isn't an issue. Casey just blends in with guys like Sen'Derrick Marks and Jovan Haye.
Colin McCarthy could prove to be a steal in the 4th round. He can play inside or outside linebacker in Tennessee and, at worst, should be a valuable backup due to his versatility.
Jamie Harper will have to win a job over Javon Ringer and Stafon Johnson, but he definitely fits the mold of what the Titans need for Chris Johnson's backup. He's a big, physical between-the-tackles runner who can pick up short yardage.
Karl Klug isn't anything to get excited about but he has the ability to play both end and tackle in the 4-3 defense. That type of versatility is always key for late round picks making the roster.
Byron Stingily can play either guard or tackle and will improve a fairly weak second unit on the offensive line. He was a late riser in the draft process and may have the upside to develop into a starter down the road.
Zach Clayton is going to struggle to make the final roster cut. They simply have too many defensive tackles on the roster and there are at least five guys solidly ahead of Clayton on the depth chart right now.
Tommie Campbell is a developmental prospect at safety, but could make the roster due to the lack of depth at the position. The backup jobs at both free and strong safety should be open for competition this offseason.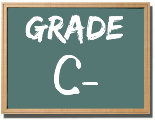 The Titans 2nd through 7th round would, at worst, get a solid B, but the 1st round is what carries a draft and the Titans have to get a failing grade for taking a 3rd-round prospect 8th overall. If you take a quarterback that high, anything less than a Hall of Fame career is a disappointment and I can't envision Locker even approaching that level of success.
About the author