This was a make-or-break draft for Jaguars GM Gene Smith. Plenty of fans are already growing impatient with his obsession with small school prospects – a theme which continued in this draft – and now that he's attached his legacy to Blaine Gabbert, Smith will sink or swim based on Gabbert's performance.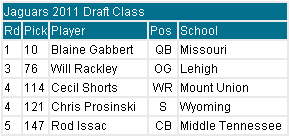 There's no denying Gabbert's talent, but taking him 10th overall has to be seen as a risk. He's more raw than your typical top-10 pick (although significantly less so than the two quarterbacks taken ahead of him). That said, I really like his chances to succeed in Jacksonville. He isn't ready to start in the NFL, but he does have the intelligence and the work ethic to quickly develop while watching from the sidelines. Hopefully the Jaguars bring him along slowly and allow him to watch and learn from David Garrard for at least a full season.
To no ones surprise, Gene Smith spent each of his next two picks on non-FBS prospects. Will Rackley played left tackle at Lehigh but will likely shift inside to guard or center in Jacksonville. Depending on how quickly he adjusts to the position change, he could compete with Uche Nwaneri for a starting spot.
In the 4th round Smith made Cecil Shorts the highest drafted D-III player in NFL history. He's an undersized deep threat – essentially a poor mans Mike Thomas – and I just don't see how he'll fit into the game plan in Jacksonville. At best, he's their 4th option this season.
Chris Prosinski was a reach in the 4th round, but he'll have a chance to earn immediate playing time at free safety. Depth is lacking in the Jaguars secondary, so anyone and everyone will be given an opportunity to win a job.
Rod Issac is an athletic but undersized corner who could compete for the nickel corner job. He isn't anything special, but neither are Scotty McGee, David Jones or Terrence Wheatley.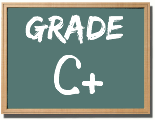 The success of this draft hinges on the development of Blaine Gabbert, as does Gene Smith's career. If Gabbert is a success it will make up for the lack of depth in this draft. If he fails, however, it will set the franchise back at least three years. It's never easy to recover from a bust at quarterback, and the fact that they added only one other potential long-term starter in this class will make it even more diffiuclt.
About the author