It's hard to get too excited about a five-man draft class, but the Indianapolis Colts did a nice job adding some instant-impact players to help allow Peyton Manning to make another run at a Super Bowl title.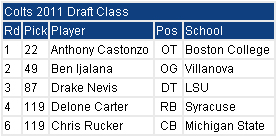 I don't think Anthony Castonzo is a 1st-round talent, but I certainly understand why the Colts took him. Charlie Johnson is not a left tackle, and while Castonzo isn't the next Tarik Glenn, he is definitely an upgrade. Down the road he may end up on the right side, but for the immediate future the Colts didn't have many other options.
The selection of Ben Ijalana shows how desperate the Colts were to upgrade the offensive line. He has a chance to win a starting job at left guard, but he'll have to beat out Charlie Johnson (assuming Johnson is re-signed).
Drake Nevis is a perfect fit for the Colts defensive line. They like undersized, athletic tackles and Nevis fits the bill perfectly. He has an excellent chance to win a starting job, and at worst should see significant time in a backup role.
Delone Carter has starting potential, but only if he can stay healthy. Indy is a good fit for him because there's no pressure to perform immediately. They can use him as part of the rotation and hopefully keep him fresh and healthy.
Chris Rucker is rare character risk by the Colts. He's talented, and could see significant playing time, but only if he stays out of trouble.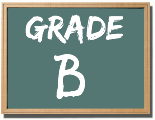 As a whole, this class should give the Colts the boost they need to make another run at a Super Bowl title. However, this isn't the type of class that will continue to make an impact five years down the road. The Colts had good reasons to make this a short-sighted draft class, but it doesn't change the fact that it will contribute to their hard fall once Manning retires.
About the author