I'm not exactly sure how to evaluate the Bucs draft. Individually, I like all of their picks. Collectively, however, it is a very risky draft class. While this class could push them into the game's elite within the next two to three years, it could also prove to be a blown opportunity.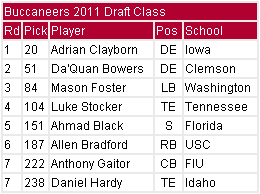 Adrian Clayborn has shown obvious 1st-round talent at various points in his career, and his skill set is a great fit in Tampa, but I still have concerns about the selection. For one, it's unknown how Erb's Palsy will impact his career. It hasn't limited him significantly to this point in his career, but could it prevent him from reaching his full potential? Additionally, his disappointing senior year is a red flag for me. As an elite lineman playing on a deep defensive line there was no excuse for his disappearing act in some games.
I really don't know what to make of the selection of Da'Quan Bowers. Ignoring the injuries, he was No. 2 on my draft board. However, 31 teams passed on him – including the Bucs – meaning there is obviously something seriously wrong with his knee. I want to applaud them for taking a risk, but coupled with the selection of Clayborn I'm not sure it was worth it. Do you really want each of your top two picks to enter the league with injury concerns? Like I said, it could pay off and propel the Bucs to elite status – or it could be a wasted draft.
I like the selection of Mason Foster in the 3rd round. He has the ability to play all three linebacker positions in the Bucs defense and could compete for the starting job on the inside.
Luke Stocker is an interesting prospect. I'm not as high on him as most, but he was worth a 4th round pick. He definitely has the measurables to be an impact player, but his lack of production at Tennessee is concerning – it's not like he was buried behind a long list of playmakers during his years in Knoxville.
You can't ignore Ahmad Black's production at Florida, but he may simply be too small and too slow for the NFL. He'll have a chance to earn a backup job, but I wouldn't expect much out him in the long run.
Allen Bradford is more of a fullback and I'm not sure he's a great fit for the Bucs. They needed to add a smaller back to compliment LeGarrette Blount, not add another 240 pound bruiser.
Anthony Gaitor is vastly undersized, but he has the athleticism to develop into a quality nickel corner. I'm surprised the Bucs waited this long to add depth at corner, but he had good value here and could compete for playing time.
Daniel Hardy was a productive pass-catching tight end at Idaho. He's a developmental prospect who may end up on the practice squad.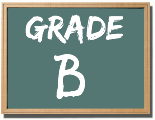 Five years from now this class is going to either get an A or an F, because there isn't much middle ground with Bowers and Clayborn. Both are boom-or-bust prospects who come with a ton of upside but are also huge risks. Due to the upside, I can't give them a poor grade. But I also can't give them an A because they didn't land anyone that projects as a can't-miss starter.
About the author