This draft was all about defense for the Houston Texans – and it needed to be. However, they failed to address their biggest need (the secondary) early in the draft and instead opted to wait until the mid rounds of the draft to fill those holes. They added some instant-impact players early, but if their young secondary doesn't improve it won't matter in the short run.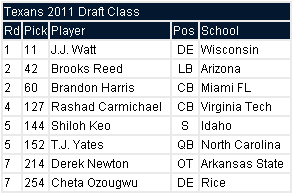 I like J.J. Watt, and I can't argue with the value he presented at No. 11. However, I had Prince Amukamara rated higher and he filled a much bigger hole in Houston. Watt will start immediately, but at what cost? Mario Williams will be moved to linebacker where he may or may not be as dominant as he was in recent seasons. He isn't a prototypical 3-4 rush linebacker so there's no guarantee that he'll return to his Pro Bowl form. So while I like Watt, it's hard to get excited about him in Houston. The selection forces them to move their best player and they passed on a more talented prospect who could have filled their biggest hole – not a wise move.
Brooks Reed is a steal in the 2nd round and should immediately excel in Wade Phillips' 3-4 defense. He'll need to be part of a rotation because he isn't experienced in coverage and may lack the athleticism to ever excel in that area of the game, but he can get after the quarterback. He is definitely a candidate for Defensive Rookie of the Year.
Brandon Harris was a solid late 2nd-round pick. He was vastly overrated by many in the media who considered him a possible 1st round pick – so I don't think they got a steal – but he was worth the 60th overall selection. He could win a starting job this year, but down the road is probably best suited to play nickel corner.
Rashad "Roc" Carmichael was a slight reach in the 4th round but should see immediate playing time in Houston. And due to their inept returning starters he could have an outside shot at winning a starting job.
Shiloh Keo is vastly overrated. He was a playmaker at Idaho, but many safeties are on a bad defense. He's a hard hitter and could develop into a reliable special teams player, but has little upside as a safety in my opinion. He simply lacks the athleticism.
I was surprised the Texans took a quarterback as early as the 5th round. T.J. Yates has some upside as a developmental prospect, but it was too early for a team like the Texans to roll the dice.
I like Derek Newton in the 7th round. He can play tackle or guard and his versatility will make him a valuable backup. The Texans don't have a ton of depth on the line, so he should be able to win a roster spot.
Mr. Irrelevant Cheta Ozougwu will be converted to outside linebacker. He's raw, but has the athleticism to develop into a quality pass rusher. However, the Texans are fairly deep at the position due to the move of Mario Williams and the selection of Brooks Reed, which may make it difficult for Ozougwu to earn a spot on the roster.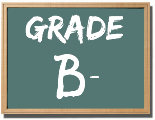 Overall, I like the players the Texans added but I just don't like what they sacrificed. As much as I like Watt, there were too many questions raised by his selection to make it worthwhile. If Prince Amukamara develops into a star in New York, they're going to regret the decision to pass on him – regardless of what Watt does for their defensive line. Even if Carmichael and Harrs improve the secondary, it will still be a weakness and likely will prevent them from making their first trip to the playoffs once again.
About the author