I love when teams like the New Orleans Saints take a value-based approach to the draft. Elite teams can reach to fill needs to improve their immediate Super Bowl hopes, but the franchises that sustain success do so by continually grabbing the best available talent in the draft – regardless of their needs.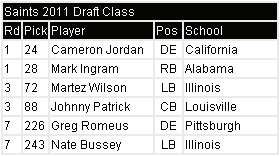 Almost anyone you ask will tell you the selection of Cameron Jordan was among the best of the 1st round, but I love it even more than most. Jordan landed at No. 4 on my final big board and I am thrilled to see him land in a 4-3 defense where I believe he's best suited to make an immediate impact. The Saints didn't have a glaring hole at defensive end, but Jordan is as NFL ready as they come and could win a starting job over Alex Brown as a rookie.
I'm not a big Mark Ingram fan (I gave him a late 2nd-round grade) but I am willing to admit that New Orleans is a great fit for him. The Saints use a true running-back-by-committee approach, which is exactly the system Ingram needs to succeed. He doesn't have the tools to be effective when carrying the ball 15-20 per game on a regular basis, but if given the ball 10-12 times in strategic situations he could have an immediate impact.
I love the selection of Martez Wilson in the 3rd round. He is a bit of a developmental prospect, which caused his fall despite his obvious raw skills, but I have faith that defensive coordinator Greg Williams will get the most out of him. He could backup Jonathan Vilma on the inside, but I think he may actually be a better fit at strong-side linebacker in New Orleans.
Johnny Patrick is a character risk and doesn't make a lot of sense for the Saints. They have at least four cornerbacks under contract who will clearly sit ahead of Patrick on the depth chart. There were plenty of good players available in the 3rd round that would have been better fits in New Orleans.
In the 7th round Greg Romeus is well worth the risk. Injuries may prevent him from making an impact at the next level, but if he is able to fully recover he'll be a steal. A full recovery may be a long shot, but it's a no-risk/potentially high reward pick for the Saints.
Wilson's college teammate Nate Bussey is an interesting 7th round pick. He's vastly undersized and is purely a developmental prospect. Even on a roster lacking depth at linebacker he'll struggle to make the cut, but could turn into something after spending a year or two on the practice squad.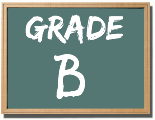 For the most part, I like what the Saints did in this draft. However, I do think they gave up an awful lot to land Ingram, who will never be a workhorse running back for them. They added enough to fill some holes and get some good value at other spots in the draft, but the lack of picks certainly takes away from what they could have accomplished.
About the author