Three years from now, when the Carolina Panthers have replaced the Lions as the laughingstock of the NFL, we'll look back on this draft as the turning point for the franchise. GM Marty Hurney and head coach Ron Rivera have hitched their wagons to Cam Newton and their future with the franchise is now directly tied to Newton's success.
You can say all you want about Newton's athleticism and arm strength, the only thing that matters is his sense of entitlement. Has a quarterback with an overinflated ego ever been selected in the top 10 and gone on to great success in the NFL? Handing millions of dollars to a guy like Newton before he sets foot on the field is a recipe for failure. He'll provide some highlights early in his career, just like Vince Young did in Tennessee, but this story isn't going to have a happy ending for anyone involved.
As much as I dislike the selection of Newton, I love Terrell McClain and Sione Fua for the Panthers. Their interior defensive line is a mess and both players could wind up starting as rookies. Landing both was a brilliant move because they compliment each other perfectly. McClain is an athletic penetrating tackle, while Fua is a big, physical space eater.
Brandon Hogan is the next Pacman Jones. He's talented, but causes nothing but trouble off the field. If I were a GM, I wouldn't touch him with a 10-foot pole. I was shocked to hear his name called as early as the 4th round.
Kealoha Pilares was a reach in the 5th round and it's unfortunate that the Panthers waited this long to land a receiver. With Steve Smith likely on his way out, they could have used a receiver in the 3rd or 4th round.
Lawrence Wilson had great value in the 6th round. He doesn't have a ton of upside, but due to the lack of depth in Carolina there's a decent chance that he could win the starting job at weak-side linebacker.
There were better players on the board when the Panthers selected Zach Williams, but they needed to add depth to the offensive line. He'll likely backup Ryan Kalil at center and possibly provide depth at guard if needed.
I don't like Lee Ziemba nearly as much as most (some thought he could be a 2nd or 3rd round pick) but in the 7th round he's worth the risk. He's built like a tackle but lacks the athleticism to play the position. Ideally he should shift inside to guard, but most teams hesititate to put a player with his height on the interior line.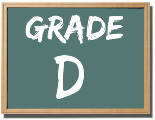 As I said in the intro, this draft – and really just the selection of Newton – is going to run the Panthers franchise into the ground. I'm tempted to give them a failing grade, but I like the selections of McClain and Fua enough to bump them up a letter grade. I'm willing to go on record predicting the Panthers will have a new GM, head coach and starting quarterback the next time they make the playoffs.
About the author